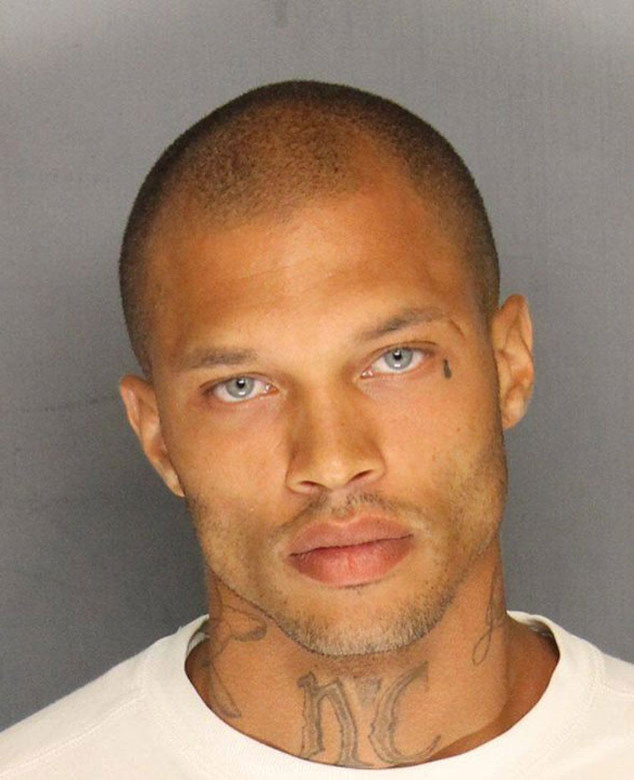 It is universally believed that 'crime doesn't pay', but it seems that if your name is Jeremy Meeks, you may be the exception to the rule.
According to TMZ, the convicted felon who won over legions of female fans after his mugshot was posted online, is set to cash in on his 'gangster' looks with a new career in modelling.
California-based agency Blaze Models is reportedly keen to sign up the 30-year-old whose piecing blue eyes and chiselled looks made him an internet sensation.
The company says that Meeks, who has a collection of tattoos, could make anything from $15-30K a month by working with top fashion houses such as Versace and Armani because the 'gangster chic' is very 'in' right now.
The father-of-one was arrested alongside four other men in connection with a spate of shootings and robberies in Stockton, California, following a police operation to reduce violence in the area.
But within hours of his photo being posted on the police department's facebook, it had garnered over 80,000 Facebook 'likes' and 20,000 comments.
"Can we be handcuffed together?" one admirer said.
Another said: "Holy hell i would arrest him too..hottest bad boy I've see."
Meanwhile Meeks, who remained in the San Joaquin County Jail on $900,000 bail, has protested his innocence.
"I appreciate [the attention] but I just want them to know that this is really not me," he said. "I'm not some kingpin."