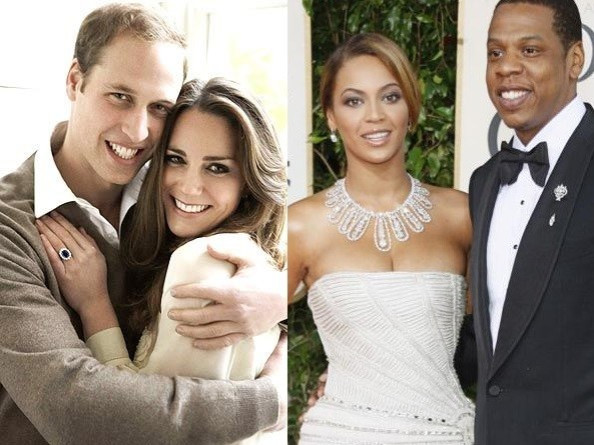 The Duke and Duchess of Cambridge\'s first child will be related to music and Hollywood royalty, it has been revealed.
According to family-tracing website findmypast.co.uk, Kate Middleton and Prince William\'s son or daughter will share the same bloodline as celebrity powercouple Beyoncé and Jay-Z.
This will make the royal baby, who will be known as the Prince or Princess of Cambridge, a 23rd cousin twice-removed to Beyoncé\'s daughter Blue Ivy Carter.
The connection is believed to stem from their shared French heritage.
And If the future heir ever becomes interested in acting he or she certainly has some great family connections.
The genealogy website has revealed that Prince William and Kate Middleton\'s child will be 11th cousin of Ben Affleck and Jennifer Garner\'s kids and 27th cousin of Brad Pitt and Angelina Jolie\'s children.
Debra Chatfield, a family historian at findmypast.co.uk, said: \"It\'s long been said that the US and UK have a special relationship, and that is certainly the case between Hollywood\'s elite and the royal family.
\"The closest relation we found to the Hollywood children was Princess Diana.
\"Diana\'s ancestry includes a number of early settlers on the east coast of the US that can be traced right up to the modern day.\"
Kate\'s baby is believed due on Saturday (13 July) and she is scheduled to give birth at St Mary\'s Hospital in Paddington, London, where William was born in 1982.