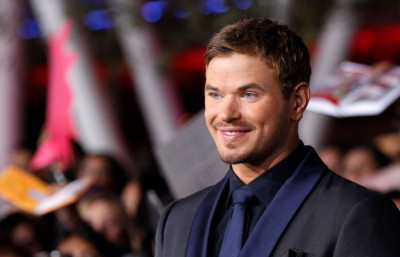 Kellan Lutz lashed out at celebrity gossip blogger Perez Hilton for allegedly spreading false reports about fling with Miley Cyrus.
The 35-year-old blogger tweeted a story with the headline, "Miley Cyrus & Kellan Lutz Might Only Be Friends, But She's Apparently Cashing In On Sex Benefits!"
"She says she's using him for sex, but she's starting to care about him. He just sees her as another conquest," he quoted an insider as saying.
The Twilight actor, thanked a follower for telling Hilton to "shut up!" and wrote, "Thank you Kay, I find Perez and his "insiders" very inappropriate. Just rude. "
The former Disney star was romantically linked with the 28-year-old actor after she was spotted kissing him at a party in Las Vegas after attending the opening night of Britney Spears' Piece of Me show.
However, Lutz revealed that he is just friends with the Bangerz singer.
"It just makes me laugh. I've been friends with Miley for six years now I think," he said on Ryan Seacrest's KIIS FM show, "She's an amazing girl."
"We're friends, I love hanging out with Miley. She's super talented but she's a really cool, secure woman and I always love hanging out with her. We run in the same circle," he added.
Lutz had split from Australian actress Sharni Vinson in May last year after 18 months of dating. Meanwhile, the Wrecking Ball singer and Australian actor Liam Hemsworth had called off their engagement too.
Meanwhile, on a professional front, Lutz has a number of potential projects lined up, since the end of the Twilight franchise. One of those is Hercules 3D, where he plays the title character.