American television personality Kourtney Kardashian is reportedly worried that her long-time boyfriend Scott Disick could leave her before the birth of their third child.
The 35-year-old Keeping Up With The Kardashians star had announced her pregnancy in June.
Disick expressed his shock and anger when Kardashian revealed she was pregnant for the third time, and it was aired on the family reality show.
The couple, who have been dating since 2007, are already parents to son Mason and daughter Penelope.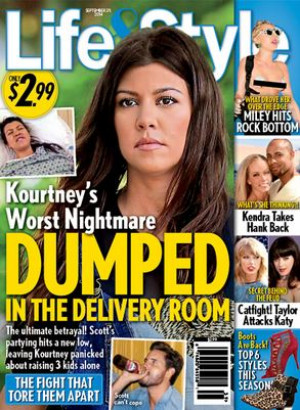 Disick admitted he was not ready for a third arrival.
"You just keep suckering me into these kids. I can't handle all of this responsibility," he said when she revealed the baby news.
According to Life & Style magazine's 29 September issue, Kardashian is worried that she will end up being a single mother.
The cover of the publication claimed: "Kourtney's Worst Nightmare, Dumped in the Delivery Room"
The description read: "The ultimate betrayal!! Scott's partying hits a new low, leaving Kourtney panicked about raising 3 kids alone."
"She's terrified she's going to end up a single mother, dumped in the delivery room. Kourtney will be left with three children and no one to father them. Kourtney feels scared and alone. She never thought she would be in this position," a source close to the couple told the magazine.