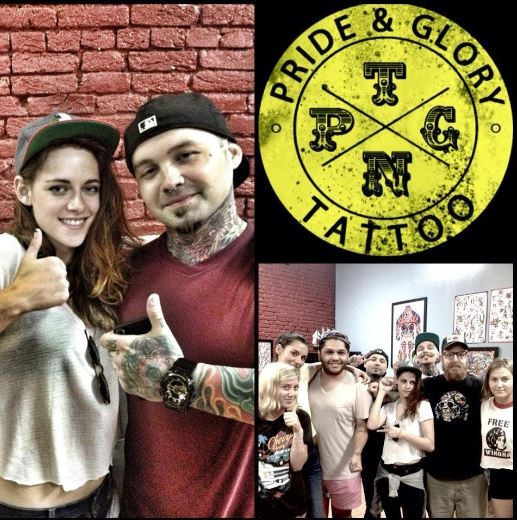 American actress Kristen Stewart got a tattoo on her right wrist while on a road trip with friends in Nashville, Tennessee.
The 23-year-old Twilight fame star was spotted at the Pride and Glory Tattoo Parlor, which posted pictures of Stewart on their Facebook page. In one of the photos, she is seen holding up her arm and showing off a small tattoo on her wrist.
It is unclear what she got tattooed on her, and the studio also kept their celebrity client's ink a secret.
Responding to a fan's question about whether Stewart got a tattoo, they replied, "Yes they all did. She asked us to keep it hush hush," adding, "Love here. She is a humble amazing soul."
Stewart is spending more time with her friends after splitting from boyfriend of four years, British actor Robert Pattinson.
The two met when they starred together in the hugely successful vampire-themed fantasy film franchise, Twilight series, based on novels of the same name by Stephenie Meyer. The couple had broken up last year after it was confirmed that Stewart had cheated on Pattinson with British director Rupert Sanders. However, they reunited for the promotion of the final premiere of The Twilight Saga: Breaking Dawn - Part 2.
Earlier this week, Stewart was seen at Hooters in Amarillo, Texas, and also posed for pictures with fans and the restaurant waitresses.
"She was trying not to be noticed, so she sat with her back to the restaurant," a source told E! News, "When she was eating, a guy asked her if she was Kristen Stewart. She said 'yes.' When the guy asked her if he could take a photo, she asked if he could take it after her meal."