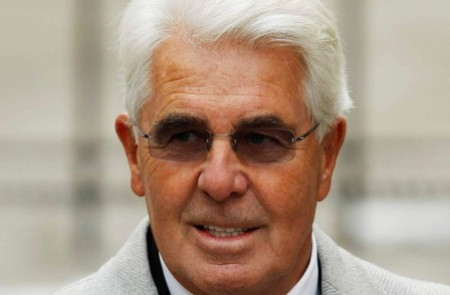 Max Clifford has been charged with 11 counts of indecent assault as part of Operation Yewtree, the inquiry set up in the wake of the Jimmy Savile child abuse scandal.
A spokeswoman for the Crown Prosecution Service has confirmed that it had authorised police to charge the celebrity publicist for assaults allegedly committed between 1966 and 1985.
"We have carefully considered the evidence gathered as part of Operation Yewtree in relation to Max Clifford, who was initially arrested on 6 December 2012 over allegations of sexual offences," said Alison Saunders, chief crown prosecutor for CPS London.
Clifford, 69, is accused of indecently assaulting seven girls and women aged between 14 and 19. He denies all allegations.
The alleged offences are not believed to be connected to Savile.
"It's distressing for my wife Joan and my daughter Louise and loved ones. Hopefully, I can get back to life," he said at the time of his arrest.
"For everyone who knows me and cares, it's a horrible experience but you have face up to these things.
He branded the allegations "horrible" and said he would fight to clear his name.
"It's a horrible thing to happen to anybody, but I'm old enough and ugly enough to face it and sort it out. This is what I've got to do.
"The police have got to look into it and I've got to show clearly and conclusively that there's no truth in any of these [claims]. All I know is what's happened to me - there is no justification."
Clifford is scheduled to appear at Westminster Magistrates' Court on 28 May.