Miss Colombia 2015, Ariadna Gutierrez, has reacted to the goof-up that happened at the 64th annual Miss Universe pageant held in Las Vegas in December. Gutierrez was crowned the winner but moments later, her crown was removed.
The pageant host, US TV personality Steve Harvey, had mistakenly named Miss Colombia the winner. She wore the crown sashay for a few minutes before the host admitted his blunder and presented the coveted title to Miss Philippines.
The 22-year-old finalist has expressed her grief on the whole affair which, she said, left her humiliated. Speaking for the first time since the pageant, Ariadna Gutierrez told Colombia's W Radio that it was a "great injustice" to remove her crown during the live event.
"There are a thousand ways to do things. They could have done it, I don't know, the next day in a press conference or a press release. They did not do things the right way," she said.
Gutierrez said that having to stand on stage facing cameras and audience while the crown was removed was totally unfair and humiliating. "It has been very hard for me… truly... it has been a great shock," the Colombian beauty queen said. Because it is a dream I fought for... I have always dreamed of this, of being Miss Universe... It was very humiliating for me."
"I was disconnected. I haven't received phone calls from almost anyone. Very few people have communicated with me. That's because I had to grieve for what happened."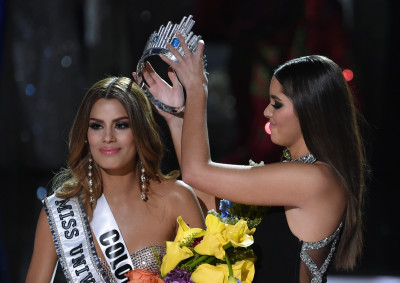 Ariadna Gutierrez even suggested that the pageant's organisers could have accepted two Miss Universes and that she was not being selfish in saying so.
The Miss Universe Organization has not issued any apology or press statements explaining the gaffe. Steve Harvey had posted his apology to both Miss Colombia and Miss Philippines on Twitter after the pageant. "I'd like to apologize wholeheartedly to Miss Colombia & Miss Philippines for my huge mistake. I feel terrible," he wrote.