Do you love Monty Python? Have you always wanted to see them live and thought that there was absolutely no hope of getting tickets to Monty Python Live, especially since the first performance sold out in 42 seconds?
Well, never fear. A few tickets are back on sale for the lucky few.
There have been mixed reviews for Monty Python's live reunion shows in the media, although, having seen the show ourselves, we're pretty sure the other reviewers are all empty-headed animal food trough wipers.
Online ticket site Double 8 Tickets has a few tickets in stock for 18 July, 19 July and 20 July, with prices starting from £75 (for a £95 face-value ticket) up to £175 (for a £220 face-value ticket in the first 20 rows in front of the stage).
According to the ticket site, people have been cancelling tickets due to the World Cup. Well, their loss is our gain.
Bargain due to no interest?
Groupon also had a deal on last week offering 50% discounts on £95 tickets for the last five dates of the show, which 535 happy people purchased.
Some would say that tickets are back on sale and being offered as a deal due to lack of interest, but that is disputed.
No big announcement was made by the Pythons – the O2 simply posted on its Facebook page on a weekend, and people who were lucky enough to see the post managed to snap a few seats up.
There was no announcement about the Groupon offer either.
The O2 is a gigantic venue, and IBTimes UK managed to see the show due to tickets that had been reserved for the crew and their family being released a month ago. The entire O2 was packed to the rafters, bar a few corporate boxes.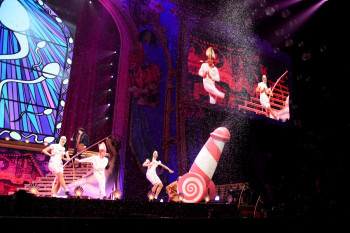 Tickets not widely publicised
One possible reason tickets are available is due to fans not realising that it's actually possible to get tickets.
If you're a fan, we beseech you – go see Monty Python live. Be part of a once in a lifetime opportunity while (most) of these iconic stars are still alive and their voices not yet squeaky.
The jokes aren't dated, as the Pythons often played characters older than themselves. You'll get to see a giant penis cannon shooting out confetti and bubbles, and sing along to all your favourite songs.
If you can't afford the tickets, then head to the cinema on 20July (listings here) or turn on Gold (Sky 110, Virgin 126, TalkTalk 408, Top-Up TV 20).
If you like Monty Python and watch their sketches and movies again and again, and quote their jokes to your friends, then you'll love it.
Otherwise, if you don't like Monty Python, then why are you reading this article in the first place?