Muhammad Ali: Will Smith overwhelmed by 'outpouring of love' at boxing legend's funeral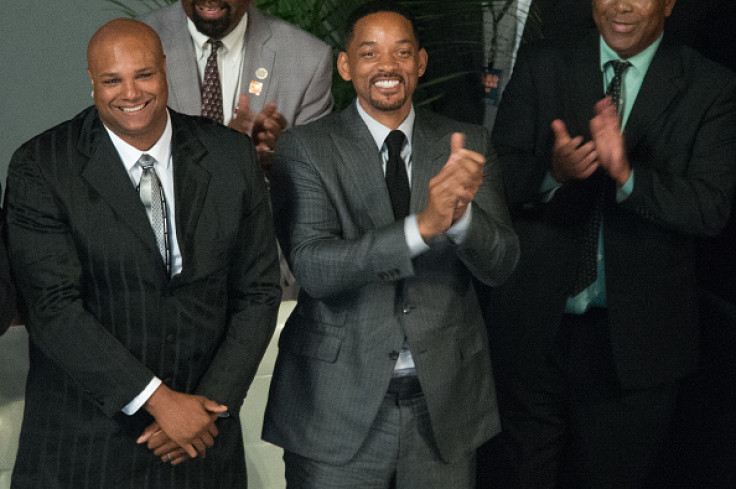 Will Smith has described the funeral of Muhammad Ali as a fitting "celebration" of the sporting legend. The 47-year-old actor, who played Ali in a biopic, had the honour of serving as a pallbearer at the memorial service.
He said that he felt "humbled" to be part of the emotional send-off and as he followed the late sports star's coffin during the procession through the streets of his home town of Louisville, to his final resting place at the Cave Hill Cemetery, he learnt a "valuable lesson" from the life and death of Ali.
"It's absolutely beautiful. We did a two-hour procession through the state ... the outpouring of love," he told Entertainment Tonight.
"I learned a really valuable lesson about how the moment of the end of a life illuminates how it was lived. And every day you have to focus and concentrate on making sure you're living your life in a way that it illuminates the things you want illuminated, and the things that were illuminated today were his love, and his heart, and his unconditional appreciation for all people of every race and colour."
As thousands of people lined the streets he said: "Every age was out there. It was beautiful. It was absolutely ... 'celebration' is the right word."
The Suicide Squad actor revealed that he and fellow pallbearers Mike Tyson and Lennox Lewis later spent time with Ali's family, recalling their fond memories of the three times heavyweight champion, Mirror Online reports.
"We all sat around, you know - Tyson, Lewis, and a lot of Ali's family and me - for about an hour. We all just told the stories and our memories. You know, for me, it's just humbling to be able to be here with the family in this time of need. He lived the perfect example of how a human being is supposed to live their life. It was beautiful."
The service included recitations from the Quran and readings from several faith leaders who shared their insights of him. Louisville pastor Kevin Cosby said that Muhammad Ali was so loved because he treated everyone 'from the penthouse or projects' as an equal.
"He dared to affirm the beauty of blackness, the power and the capacity of African Americans, he dared to love America's unloved race and we love us and we loved him because he loved us. Whether you lived in the slums, whether you came from the penthouse or projects, he loved you," Cosby said.
The event saw a host of celebrities from the world of sport and entertainment turn out to pay their respects to the boxing champion who was an inspiration to so many. California Gov. Arnold Schwarzenegger, rapper/actor Common, and former NFL Baltimore Ravens linebacker Ray Lewis and former England footballer David Beckham were among the sports stars to attend the memorial.
Director Spike Lee, Whoopi Goldberg and Yusuf Islam formerly known as Cat Stevens also came to pay their respects while former US president Bill Clinton read the eulogy.
The inter-faith memorial service concluded two days of religious ceremonies with more than 14,000 mourners joining the family for the traditional Muslim prayer service at Kentucky's Freedom Hall which in accordance with Ali's wishes, was open to the public.
Muhammad Ali passed away on Friday, 3 June, at a hospital in Phoenix, Arizona where he had been admitted a day earlier following a respiratory condition. He was 74.
© Copyright IBTimes 2023. All rights reserved.