Oprah Winfrey has described visiting Nelson Mandela at his home, as one of the "greatest honours" of her life.
On hearing of the iconic leader's passing, the US TV chat show host spoke of her close bond with the man she regarded as her friend, mentor and inspiration.
Winfrey and her long-term partner Steadman Graham, were invited for a 10-day stay with the former President, at his home in South Africa's Western Cape in 2000.
"One of the great honours of my life was to be invited to Nelson Mandela's home, spend private time and get to know him," she said.
"He was everything you've ever heard and more - humble and unscathed by bitterness. And he always loved to tell a good joke. Being in his presence was like sitting with grace and majesty at the same time."
The 59-year-old media mogul and founder of the Oprah Winfrey Network told Forbes magazine that it was her discussions with Mandela about the country's poverty and education during that time, that had inspired her to create Oprah Winfrey's Leadership Academy For Girls in Henley on Klip, south of Johannesburg.
Uncertain of an appropriate gift when visiting a President who was a legend in his lifetime, on hearing of the education problems in South Africa Winfrey instantly pledged to donate $10 million towards the construction of a South African school.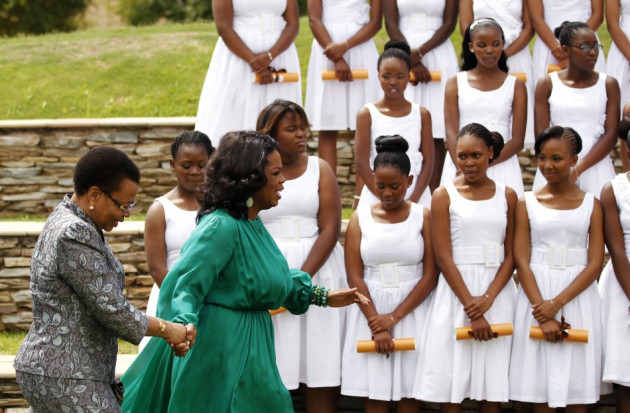 "When you go to Nelson Mandela's house, what do you take?" she said, half-joking. "You can't bring a candle. I wanted to leave something that would be of value."
The all-female boarding school was founded in January 2007 with the goal of providing educational and leadership opportunities to academically gifted girls from impoverished backgrounds.
Of all the illustrious political leaders and personages to grace the Harpo studios to be interviewed by the legendary talk show queen, there was perhaps none greater than Nelson Mandela.
Recalling the first time she interviewed the anti-apartheid leader on The Oprah Winfrey Show she said: "The thing that was challenging was getting him to admit that he played the greatest role in the apartheid movement because he kept saying, 'No, it wasn't me. It was all the other people,' and I realised in that interview with him that that is what true humility is."
"As he was getting ready to leave the building, every one of the Harpo staff lined the hallway to shake his hand," she added. "We now call that hallway the 'Nelson Mandela Hallway' here at Harpo."
As the world unites in mourning Mandela's death, Winfrey summed up his impact on her life.
"He will always be my hero," she said simply. "His life was a gift to us all."