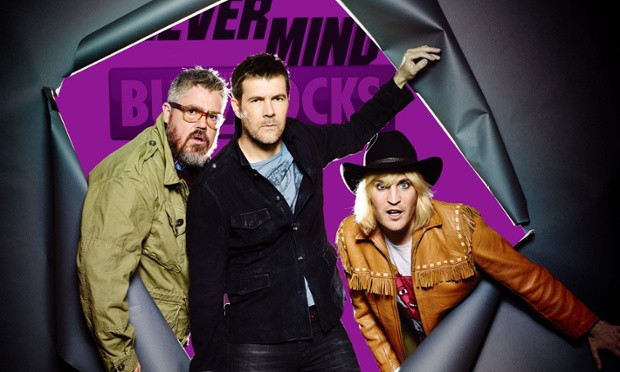 After almost two decades of bringing viewers comedic gold Never Mind The Buzzcocks has been axed.
Bosses confirmed the news in a statement saying that they were keen to "create space for new entertainment formats in the future".
However, Broadcast reports that dwindling ratings was the main reason for pulling the plug, with the most recent series averaging just 1.1 million viewers.
Over the course of 28 series, the show has been hosted by Mark Lamarr, Simon Amstell and Rhod Gilbert and has also featured team captains including Phill Jupitus, Sean Hughes, Bill Bailey and Noel Fielding.
During its heyday the show wasn't short of outbursts and cringe-worthy exchanges. IBTimes UK takes look back at some of the most famous moments in the show's history.
Mug-gate
In 2013, Fun Lovin' Criminals frontman Huey Morgan smashed his mug on screen after throwing a tantrum over during the "next lines" round. Sensing that he was upset that they had used his band's lyrics, guest hosts Rizzle Kicks asked "Are you alright with that?" to which Morgan replied: "You're not upsetting me, it's fine."
However he then added "I just don't roll like a punk, I'm sorry" before smashing his mug and walking off.
Amy Winehouse
When the late Amy Winehouse appeared on the show, it appeared that she may have decided she needed some Dutch courage before filming. After the singer's friend and host Amstell appealed for her to record a duet with Katie Melua, she declared that she would "rather have cat Aids".
S&M
Before Fifty Shades Of Grey there was Lorraine Kelly. During her guest hosting gig in 2011, the presenter decided to shed her good girl image by ordering captain Fielding to "bend over", before spanking him with a spatula. The whole scene was hilariously awkward to watch.
Mark Lamarr vs Pete Burns
Pete Burns took an immediate dislike to host Lamarr when the Dead Or Alive frontman appeared on the show. The duo clashed throughout the episode and even argued about the difference between sex and trespassing. When Burns declared " We're hardly on here for our sparkling intellect, are we?" a straight-faced Lamarr replied: "No."
Ordinary Boys singer Preston's walkout
The award for the most epic walk out goes to Ordinary Boys lead singer Preston, who was less than impressed after Amstell read out extracts from his then wife Chantelle Houghton's autobiography. After storming off in disgust he was replaced by a member of the studio audience.