News photographers discuss their personal favourite images of 2016
Getty Images photojournalists from around the world tell IBTimes UK the stories behind some of the most widely-used images of the year.
In this exclusive IBTimes UK gallery, Getty Images photojournalists from around the world discuss their personal standout images of 2016, and provide some insight into what it takes to shoot some of the world's most widely-used images of the year.
Carl Court captured this photo of a boy on a bike in front of a burning oil well while he was covering the military assault of Mosul, Iraq.
He told IBTimes UK: "I was aware of the oil fires raging in Qayyarah, so my fixer and I drove to where the fires were. I wanted to show not only the scale of the fires but also the human side to the situation, the people in this village so close to the destruction. This young boy cycled past completely oblivious to the blaze behind him. He was much more interested in me taking the picture. He looked at me, I looked at him, I took the photo and he cycled off."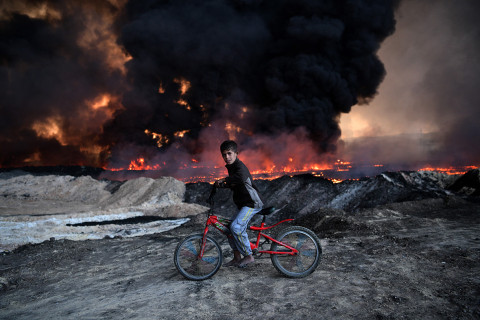 Joe Raedle: "I had the honour of being part of a great Getty Images team during the Democratic National Convention in Philadelphia, Pennsylvania. We would rotate our shooting positions during the event, pretty much surrounding the stage where the event was taking place. This moment happened when it was my turn to be in what is called "the buffer." This is the area between the stage and the audience.
"Without the buffer access, I would have had to battle with the crowd to find a way to shoot around them and, at the same time, photograph what is happening on the stage. President Barack Obama was given the job of introducing Democratic Presidential candidate Hillary Clinton to the crowd. Since I've covered a few of these conventions, I knew that there had to be some moment that I could capture as he and she met on stage for the first time.
"Luckily, I had a clear shot and just had to make sure my focus was correct as she walked into his embrace. The look on her face was priceless. It almost seemed like she was finally at peace after years and years of trying to reach the pinnacle of political power here in the United States. It was also poignant for me because most politicians are very guarded and this seemed spontaneous and genuine even though it was in front of thousands of people on a public stage."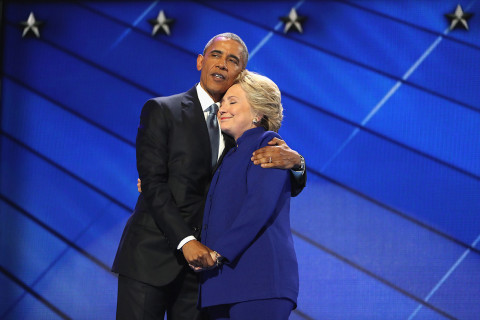 Pablo Blazquez Dominguez: "I took this picture during the third bull running of San Fermin in Pamplona. It was on Saturday and there were crowds of people. Each day, I try to photograph the event from a different spot. On this day I decided to shoot from a high level position along Estafeta Street, as I wanted to show the atmosphere from the balconies. It was a dangerous bull-running, with many injuries, and a bull returned to the start, but otherwise the rest of the animals ran very close to each other just below me, as we can appreciate in this image."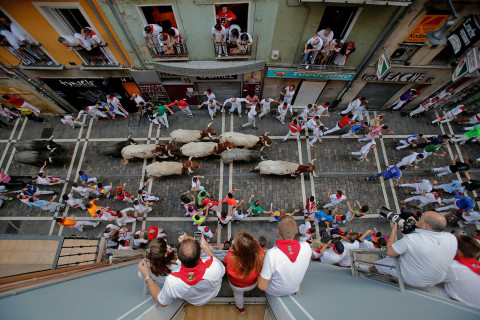 Karwai Tang: "The best positions for David Cameron's departure were all taken up the night before, so I decided not to join the main throng of photographers and chose to go further down Downing Street to capture them walking to their car. Despite this major news event the atmosphere was calm, there were going to be no surprises, he was going to be leaving Downing Street. Love him or loathe him, I found this image of him leaving, especially with his family by his side, almost like watching them being evicted from their home."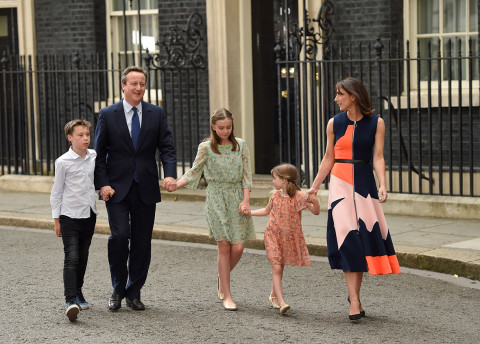 Dondi Tawatao captured this photo of the dead body of a suspected drug dealer on a street in Manila, Philippines: "I took this image at around midnight. It was our sixth crime scene for the night. I had just finished covering a crime scene only five kilometres from that area when I received a call about another one on the other side of the city and had to race there quickly.
"On the way to my second location I saw a bunch of people standing outside on a street, milling about as if some sort of activity was going on. I thought nothing of it since we had to get to the crime scene on the other side of Manila so we ignored what was going on. After I finished covering the second crime scene, I went back to the area I had passed because there were reports that there were two dead in separate locations. No addresses were given so we went looking street by street. I passed by the same street as earlier and noticed there were already police cars and lots of residents standing around, which is when I realised there was a dead body in the area and this was the same street we just passed by a few hours ago.
"The scene was cordoned off by a police line but the cordon was only a few feet away from the subject around four to five feet so I placed myself in the middle and shot this scene. Even though it was already an hour before we stumbled into this scene police did not even make an effort to clear residents off the area including the young woman inside the local eatery who seemed uninterested and indifferent to a dead body right in front of their eatery.
"From firsthand accounts of the residents, the man was jobless and a known drug user in the area. He was just outside buying cigarettes when a group of men in motorcycles with their faces covered, and with three passengers their faces also covered, stopped in front of the man and shot him point blank and sped away. This is how it is when the death squads strike, or what we call the 'grim reapers'. I did not stay around long at this crime scene as we had received reports of another one in another location. The toll for that night was 18 dead."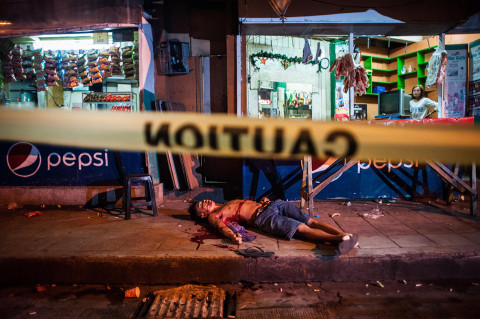 Carl Court: "This picture was taken during a day of clashes between England football fans, French police, Russian supporters and local Marseille hooligans. There had been running battles around the port area of Marseille and continuous skirmishes in side streets but eventually the England fans quietened down and gathered in a couple of pubs in the corner of the square.
"After a few hours of drinking they became raucous and yobbish – a pattern that had been repeated over the previous day or two – and eventually the police, who had held back for a while, moved in to disperse them. They fired tear gas from some distance and moved forward in small units. I followed one of the units who formed a line around 25 metres from a group of hardcore supporters who had been throwing bottles and chairs and fired tear gas at them.
"Unusually, I actually saw the tear gas canister land near the crowd and then roll next to the guy sat defiantly on the bollard. I know from previous experience that they explode when they release the gas so I knew a dramatic picture was about to happen and kept the camera to my eye. Within what seemed like minutes, but was probably milliseconds, the canister went off beneath the guy and, seemingly unhurt, he ran off to rejoin the mob off hooligans who had retreated away from the clouds of gas."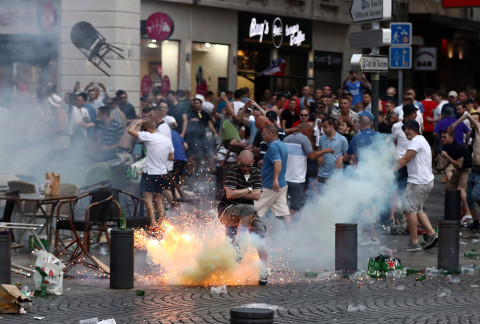 John Moore: "I travel frequently to South Texas' Rio Grande Valley to photograph US federal agents patrolling the US-Mexico border. I usually schedule to meet Border Patrol agents on 'swing shifts,' which run from afternoon into the evening so that I'm with them during the nice light of sunset and then into darkness, when there is often more activity. A good outing for me is when they have lots of 'traffic,' which means they are detecting a high amount of immigrants or drug smugglers trying to cross over the Rio Grande into Texas. When that happens, the public affairs officer I'm with hears it on the radio, and we drive to where the action is.
"On this occasion, Border Patrol ground sensors had detected a group of immigrants who had just crossed the river from Mexico into the US. The agents knew where the group was first identified, so they went there, got out of their vehicles and tracked the footprints north along a small trail. Two of their K-9 units arrived and began to follow the scent, the dogs pulling their handlers forward through thick brush, faster as the scent became stronger. A Homeland Security helicopter joined the chase, buzzing back and forth above the treetops, it's downdraft parting the underbrush below as the crew members peered down, their faces obscured by their helmets' dark visors, searching for 'bodies,' as they call the immigrants.
"It was getting dark, and the mesquite branches were scratching my hands as I held my cameras close to my body, pushing through the thicket, making sure to keep up so as not to get left behind in the confusing terrain. Eventually, the agents caught up to the exhausted and ragged group, which had finally stopped and burrowed into the dirt under thorny branches on the ground. The officers, themselves panting and sweat-soaked, handcuffed the dusty migrants and prepared to move them to a clearing for transportation to a detention centre. As the uniformed men looked for the best way out of the shrubs, I turned back and noticed the nervous faces of one couple holding hands. The woman brushed her thumb over the man's fingers, back and forth, in a small gesture of comfort. I had no time to speak with them, so I never knew from which country they came or whom they left behind. I never knew even if they travelled together, or if they found each other in that very moment, holding hands, as strangers facing an uncertain future."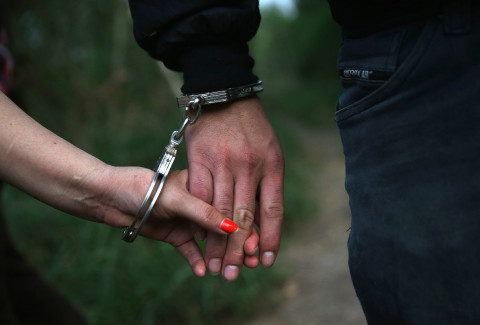 Joe Mahoney: "Donald Trump had finished a speech in Colorado Springs in July and was greeting supporters. Over the years, I've shot many of these scenes on the 'rope line' and it is rare to capture a good photo. It is just another part of the campaign rally routine. Trump soon reached two mothers holding babies. The moms handed the pair to him so they could take a photo of the tots with Trump. After the moms took their photo, Trump turned with the babies toward the press photographers behind him.
"At that point, it appeared that we were going to get a 'politician-kisses-baby' photo that people have seen many, many times. One I probably wouldn't even send out. But, after he gave the baby on the right a kiss, she started to fuss and cry which caused Trump to react. He quickly returned the pair to their moms, but I knew I had an off-beat moment. According to the timestamp on my digital images, start to finish the Trump-baby interaction lasted about 14 seconds – long enough to make an hours-long, run-of-the mill campaign event a little more interesting."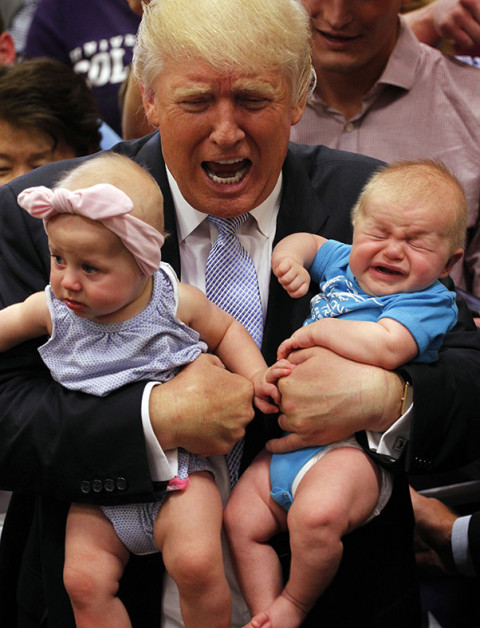 Jeff J Mitchell: "I'd been covering an anti-Brexit rally in Trafalgar Square. It was an extremely wet afternoon and I had been shooting for around an hour when I decided to take shelter in a café and wire some pictures. As I was enjoying a brew, a colleague from Reuters rushed in the door to let me know the demonstrators had started to make their way down Whitehall towards the Houses of Parliament, I chucked my laptop into my backpack, grabbed my gear and rushed after them.
"As I got to College Green the people had stopped in front of the risers where the television companies were doing their live broadcast for the evening news bulletins. I needed to get a vantage point I noticed that some TV camera men were on an empty riser I decided to join them I was there for around ten minutes making pictures before a couple of burly security guards arrived and instructed us all to leave."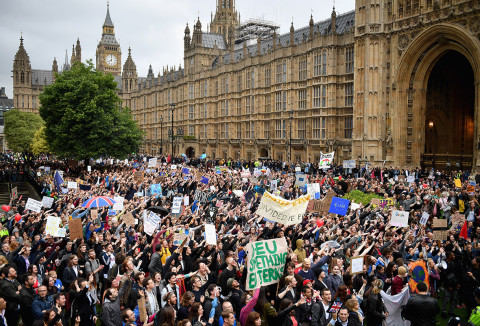 Mario Tama: "I was covering the developments ahead of the impeachment of President Dilma Rousseff and photographed a large rally of pro-Rousseff supporters held in Rio's traditionally bohemian neighbourhood of Lapa.
"Having lived in Brazil three years now, I have witnessed political rallies metamorphose into Carnivalesque events many times. I was shooting some rather boring frames of supporters in the crowd when I heard drumbeats echoing in the distance. I quickly made my way through the crowd and fortunately encountered this group of traditional performers dancing, singing and marching their way towards the rally."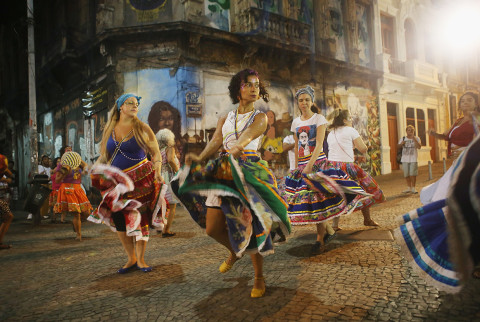 Pablo Blazquez Dominguez: "The Jarramplas Festival takes place in cold January in Piornal, the highest village in the Extremadura region. Locals respect their tradition on this day, it is one of the proudest days of their life, honouring the Jarramplas (a character that represents the devil). One of the theories about its origin is that the Jarramplas was a cattle thief and the villagers punished him by throwing vegetables at him.
"This image shows the Jarramplas leaving the church, where villagers were waiting eagerly to throw him dozens of turnips from a very short distance, making Armando Vicente, this year's Jarramplas, feel proud."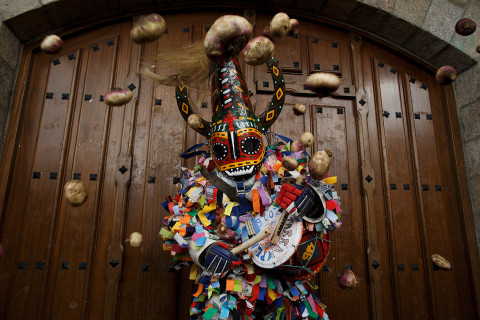 Carl Court: "After a morning of walking around in thick mud in a migrant camp in Dunkirk, I came across a small area where some children were living in tents. The younger ones were quite shy and ducked away as soon as they saw me but this little girl was unbothered and more concerned with going somewhere on an errand.
"I'd been looking for ways of illustrating the awful conditions people were living in and had already taken pictures of migrants cooking and washing in the squalor so this girl, in her clean clothes, seemed a stark contrast to her surroundings and represented an image of dignity and defiance. I initially tried to photograph her as she moved about by her tent but as soon as I got closer she ran off and jumped over the puddle. I didn't bend down as I often would when photographing a small child so the picture shows more mud and more of the background – squalor, filth and poverty."