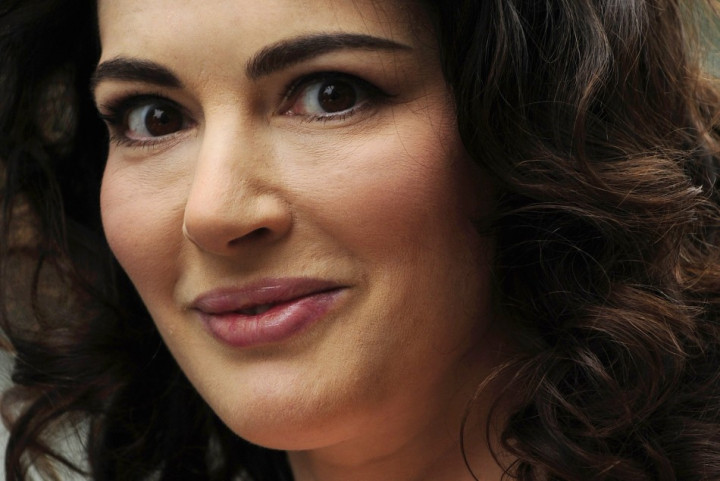 'Domestic Goddess' Nigella Lawson's colleague Brian Malarkey has stated that her image could suffer if she stays with her art tycoon husband, Charles Saatchi. Malarkey appears on her hit cooking show The Taste.
On being quizzed whether the choking photos, which were all over the papers could affect Lawson's image, he stated that he wanted her to succeed and not be in a situation like in the ­photos.
"Yes, there is that risk. I don't know what future plans she has in the US but she won't want this situation to hang over her. She is America's sweetheart now. ­Everyone feels quite protective of her and wants her to succeed and not be in a situation like in the ­photos. It's in all our papers here and everyone is concerned. I think everyone here wants her to be strong and happy and they're not huge fans of him (Charles) at the moment," Malarkey stated.
Meanwhile, just a few days back, a removal van was spotted outside Lawson's marital home, fuelling speculation that she has ended her marriage to Saatchi.
The crew, under the direction of Lawson's sister Horatia, was photographed loading the TV chef's belongings, including her cookbooks, kitchen utensils and clothes, into a van.The move came two weeks after images emerged of Saatchi with his hands around her neck outside a London restaurant.
According to the Sunday People, Lawson, 53, had confessed to close friends that she was left feeling 'broken and ­desolate' after the incident.
"Her heart is bleeding right now. She wants out. Neither she nor Charles are ­interested in counselling or trying to save the marriage. It seems they're done and she is broken and desolate," a source said. Shortly after the alleged assault, Lawson was pictured with her son Bruno, leaving her marital home with a suitcase. She now lives in a £10,000-per-week apartment in Mayfair close to her younger sister Horatia, 44.
Meanwhile, 70-year-old Saatchi has stated that he voluntarily went to a central London police station and accepted a caution for assault, which he called a "playful tiff". Lawson has two children, Cosima, 19, and Bruno, 17, from her previous marriage to the late journalist John Diamond, while Saatchi has a daughter, Phoebe, from a previous marriage.