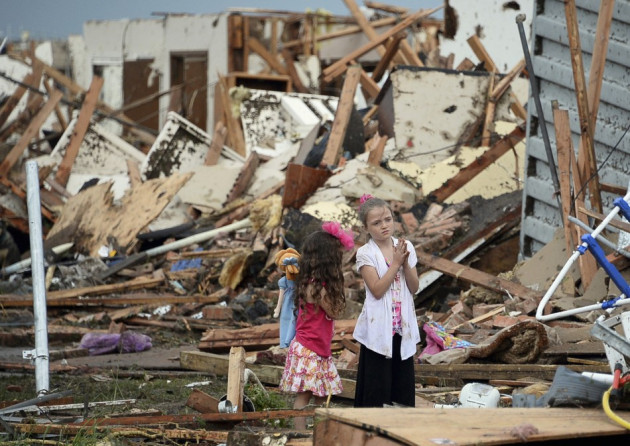 The massive tornado which hit parts of Oklahoma City and its suburbs has reportedly killed at least 91 people, including 20 children.
According to New York Times, hospitals have reported at least 145 people injured, 70 of them children.
"We locked the cellar door once we saw it coming, it got louder and next thing you know is you see the latch coming undone," a survivor Ricky Stover told BBC, "We couldn't reach for it and it ripped open the door and just glass and debris started slamming on us and we thought we were dead, to be honest."
Celebrities took to Twitter to react to the tornado and send prayers to Oklahoma and its people.
Shakira urged people to make donation: "My thoughts and prayers go out to everyone in Oklahoma. Please text REDCROSS to 90999 to show your support. Shak"
Alicia Keys: "So much going on in the world...I'm saddened by the devastating news… My thoughts and prayers are with all those affected #PrayForOklahoma"
Olivia Munn: "Tornado leveled elementary school- children feared dead & many kids still trapped. I'm praying for everyone in my home state of Oklahoma."
Neil Patrick Harris: "I just can't believe the scale of that tornado that touched down in Moore. A mile wide?!? My condolences go out to everyone affected."
"I just want to send my love to anyone who lives in the path of these storms. First Texas, now Oklahoma. You're all in our thoughts..," wrote Ellen DeGeneres.
Pitbull: "my thoughts & prayers are with those in Oklahoma," while Barbara Walters posted, "My heart goes out to Oklahoma tonight. Keeping you all in my thoughts."
Khloé Kardashian Odom: "My heart is breaking for Oklahoma!!!! Please Lord please send your angels to heal and protect these families!!!"
Jennifer Love Hewitt: "My heart and prayers go out to everyone in Oklahoma. So tragic. Sending light."
Dick Vitale: "Heart pains 4 all those that have been victims of those storms in Moore Oklahoma - that is the home of Toby Keith country star-#PRAYERS"
Evelyn Lozada: "24 children still missing in Oklahoma! There's a father on site crying looking for his 9 year old child! This is so not fair! Kiss ur kids!"
Jacqueline Laurita: "Sending prayers, love, support, and peace to Oklahoma. These natural disasters keep breaking my heart. XOXO!"