Mayte Garcia, the ex-wife of the superstar Prince, has described her four-year romance with superstar musician Prince as "bizarre", in a recent interview.
Garcia, a dancer and actor, was 16 when first met the superstar in 1990, who at 32, was twice her age. The couple were married in 1996.
"All the songs he wrote for me, that's a pretty hard act to follow," she told the Mirror. "I've dated a couple of guys, musicians, who have written me poems or songs and I'm like, 'Seriously, don't even go there. You can't compete!'"
The couple first met when Prince asked the schoolgirl backstage at one of his concerts, after he had seen a video of her belly dancing which had been sent to him by Garcia's mother.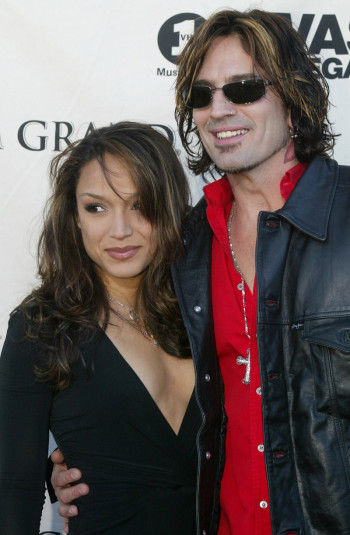 The pair stayed in touch, and two years later she joined Prince's band – New Power Generation – after graduating from high school.
Garcia remained in NPG after Prince dismissed many of its members, singing on some of Prince's and NPG's albums and performing at concerts.
The couple married when Garcia was 22. In 1997, Garcia gave birth to Boy Gregory, who died a week later, due to a rare skull defect. This tragedy was followed by a miscarriage, which pushed the couple apart. They divorced in 2000.
"I think I'm now screwed for life because my first relationship was the most bizarre relationship ever and I'm not normal any more.
"I've kind-of been spoiled and I guess I am kind-of screwed-up now."
Garcia, 41, who will be starring in the new US ABC series, Kingmakers, also revealed that she had never addressed her husband by his name: "We never had any pet names, and I don't think in the whole time we were together I called him anything, which I guess is a bit weird."
She has previously spoken openly about her ex-husband's eccentric characteristics, and recalled in a 2006 interview with MailOnline, that she was not allowed to phone the pop star – even when they were married.
Eccentric genius
The miniature pop star is renowned for his weird behaviour. In 1993, Prince changed his name to a symbol following a disagreement with Warner Brothers over the ownership of his work.
In 2010, the flamboyant artist slammed the internet as "outdated" following the release of his album 20Ten, because companies such as Apple would not pay him an advance.
He refused access to digital download services and released the CD as a free cover mount with publications in Europe.
It was also reported that Prince banned Whitney Houston from his concerts after the singer's erratic behaviour and excessive ticket demands during his 2011 Welcome 2 America tour.
Sinead O'Connor has admitted in an interview that she had got into a fist fight after the Prince-penned track, Nothing Compares 2 U, propelled her to superstardom.
The pair took a dislike to each quickly after a meeting in 1990.
"We had a fist fight. There was quite a scene. I ended up having to escape from his house. I was running around his car, spitting at him and he's trying to box me – all at six o'clock in the morning," the 47-year-old singer told Event magazine.
"I rang on someone's doorbell to get in their house because Prince was about to kick the living s**t out of me."
O'Connor said the fight had begun when she told Prince to "f**k off", after he "summoned" her to his home at 6am one morning to tell her to stop swearing during interviews.