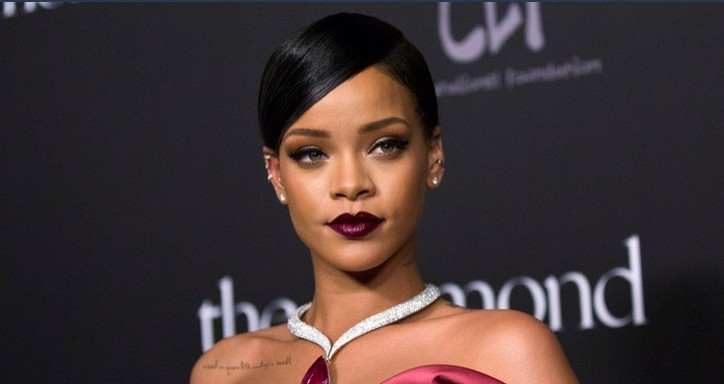 Following her turbulent romance with Chris Brown, Rihanna has learned a thing or two about relationships. The 27-year-old pop superstar, famously dubbed Good girl, Gone Bad, is urging women across the globe to have more self-respect, claiming that's of the utmost importance when dating.
Speaking to an Australian news site during her promotion tour for her new animated film Home, the entertainer claimed that it was important to find a healthy balance between loving someone and being strong enough to walk away from a bad situation.
"The more we respect ourselves the more men will respect us," she says. "I have both sides to me and I think most women do. We are strong but they are very vulnerable as well.
"For me, I get very fierce and passionate about my career and about my family. But there are also things that make me become a little girl. Like, I love balloons, that definitely really brings out the little girl in me."
The songstress adds that Home has a positive message for young girls: "I think women are way stronger than they know, or sometimes they do know, but they don't always feel like being strong."
RiRi appears to have matured a great deal since ending her on-off relationship with Brown last year. The loyal hit maker is still on probation for assaulting Rihanna after a pre-Grammy bash in 2009.
Meanwhile, the Diamonds hitmaker has finally addressed rumours that she's dating Hollywood actor Leonardo DiCaprio. It was previously reported that Rihanna fell for the Wolf Of Wall Street star after he "blew her mind".
"He wasn't possessive and that blew her mind," the insider told Hollywood Life. "She thinks he's playing some type of mind game with her and she's intrigued by it. Rihanna loves a challenge, and he's unlike the dudes in her past, those were boys.
"This is Leo, he's something else. He's hitting all the right spots and I'm not talking between her legs. He's making her feel good and stimulating her on an entirely different level."
But the Bajan rubbished the claims warning: "Stay off the blogs, they will screw you every time."