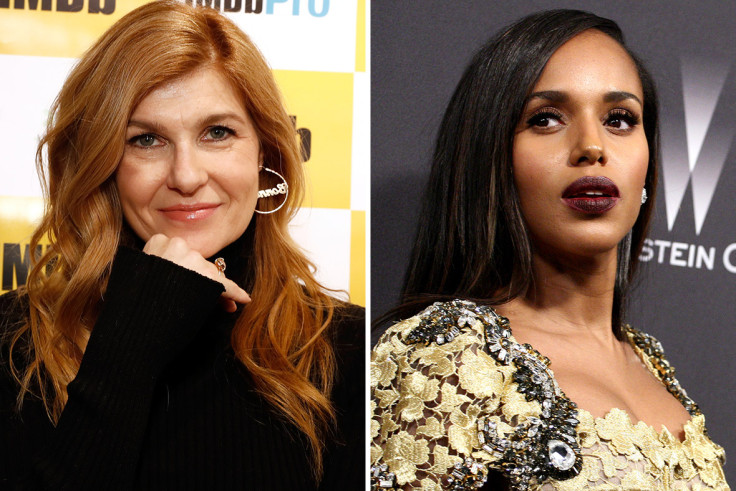 Kerry Washington is best known for playing 'fixer' Olivia Pope in ABC's red-hot White House drama Scandal, but it now emerges that she almost didn't get the role. According to showrunner Shona Rhimes, the network originally wanted Connie Britton.
The Hollywood Reporter recently caught up with cast and creative team behind the show ahead of their 100th episode celebrations and Rhimes revealed she was not on board with the casting choice because "Olivia Pope is black".
She explained: "Nothing felt more important than the sense of outsiderness. I didn't know that there hadn't been a drama series with a leading black woman for 37 years. When the show got picked up [to pilot], I got a phone call from somebody who said, 'This would be the perfect show for Connie Britton.' I said, 'It would be, except Olivia Pope is black,'".
It is important to note that – while Scandal is fictional – Washington's character is inspired by Judy Smith, a former fixer crisis-management expert, who is also black.
Can you imagine the world where Washington isn't popcorn and wine-loving Pope? Casting director Linda Lowy couldn't either. She said she panicked when she heard ABC's planned the unthinkable and subsequently joined Rhimes in the fight for a black actress.
"The network was reading us their top choices, and it was Connie and all white women. I panicked. Somebody finally piped up, 'We're going to have to redo this list'. "Linda Lowy, the casting director said: "We tested Kerry, Jill Scott and Anika Noni Rose. It was Kerry from the moment I took her to meet Shonda."
Despite losing out on the role Britton is far from jobless. Since 2012 she has appeared in films including Me And Earl And The Dying Girl and American Ultra and as recently as February, she played Rayna Jaymes on ABC's musical drama Nashville.