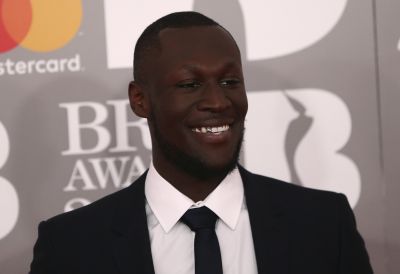 They bonded after delivering a stellar performance at the 2017 Brit Awards and it looks like Stormzy and Ed Sheeran's bromance is going from strength to strength.
The grime star came to the defence of his pal after a fan urged him to stop performing his collaboration with Sheeran on his Gang Signs & Prayer tour.
Ahead of his sold-out show in Sydney, Australia, a follower reached out to the Big For Your Boots hitmaker on Twitter with the one request: "Please don't play Ed Sheeran tonight."
Refusing to ignore the jab, Stormzy hit back: "F*** you we doing Shape Of You remix twice just for that."
Back in February, The Gang Signs & Prayer star surprised fans when he unexpectedly walked onto the Brit Awards stage to join in Sheeran's live performance of chart-topping hit, single Shape Of You.
Days later their remix debuted at number one the singles chart following its official release. Sheeran returned the gesture by joining Stormzy on stage during his homecoming residency at London's O2 Academy Brixton.
Sheeran hasn't had it easy in recent weeks. The 26-year-old star's cameo on Game Of Thrones as a nameless Lannister soldier, serenading his comrades at a campfire was slated by the fans of the HBO fantasy and he hounded by Lady Gaga fans who accused him of disrespecting Mommy Monster.
He also announced he would be quitting Twitter after growing tired of the barrage of abuse he received. "I go on it and there's nothing but people saying mean things," he told the Sun. "Twitter's a platform for that. One comment ruins your day. But that's why I've come off it. The head-f**k for me has been trying to work out why people dislike me so much."
Although his account is still active it will only share automatic updates from his Instagram page from now on.