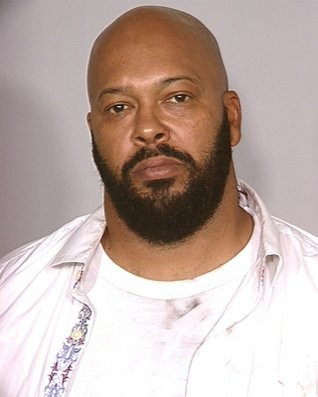 Marion 'Suge' Knight's hit-and-run murder case has taken a dramatic turn after the rap mogul was rushed to hospital.
The 49-year-old star, who stands accused of running over two men in his truck, leaving one dead, has a "potentially fatal" blood clot, TMZ reports.
Terry Carter, 55, was killed and Cle 'Bone' Sloan, 51, injured on 29 January following an argument with Knight in Compton, Los Angeles.
Following a court appearance on Tuesday (3 February), Knight was taken to hospital after complaining of chest pains. At the time, it was reported that the Death Row Records founder had suffered a panic attack after pleading not guilty to charges including murder and attempted murder.
Doctors have since determined that the hip-hop impresario was suffering from an "intense reaction" to a potentially fatal blood clot. He is being treated at California's Long Beach Memorial medical centre.
Knight's lawyer, James Blatt, claims he did not intend to run the men over, and was trying to escape an attack on the set of Straight Outta Compton, a film about rap group NWA, in Los Angeles.
"He was in the process of being physically assaulted by two men and in an effort to escape he unfortunately hit two [other] individuals. He was in his car trying to escape," Blatt said in a statement after Knight turned himself in to police.
But prosecutors allege that the US record producer, who turned himself in to police, intended to kill.
Knight, who helped launch the careers of stars including Tupac Shakur and Snoop Dogg, has a colourful rap sheet and legal woes that go back more than two decades.
In 1996, he served five years for a parole violation stemming from a prior conviction of armed robbery and assault with a gun. The 49-year-old music producer has also been implicated in a number of crimes ranging from homicide to domestic violence.
On Monday, a court commissioner revoked the star's $2m (£1.3m) bail after law enforcement officials said the defendant had a violent past and could potentially intimidate witnesses if freed.