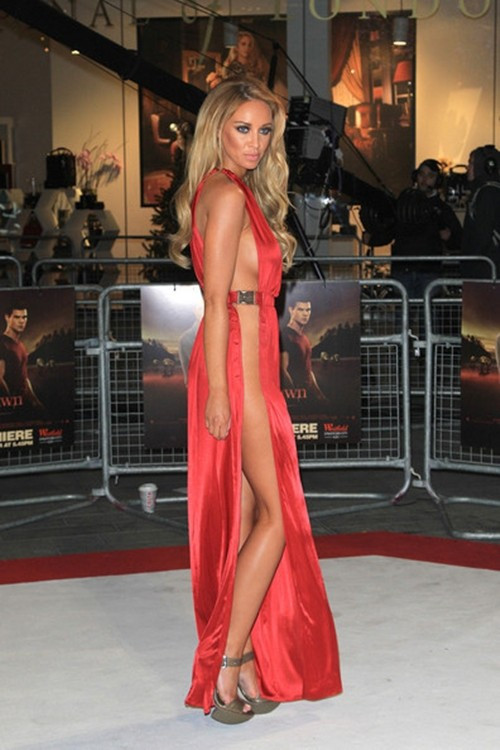 TOWIE's Lauren Pope made sure she was the talk of the "Breaking Dawn" Wednesday night after stepping out in daring custom-made dress that had a split going up the whole of her right side.
The reality TV star got tongues wagging as she arrived at the UK premiere of the first half of the last film in the "Twilight" series in the saucy number that revealed that she had indeed left her underwear at home.
The 28-year-old Essex girl's dress, which was created by designer Louis Heal, was held in place by a diamante clasp at her waist and was a far cry from the stars usual chic and modest ensembles.
Pope made quite an impression on the red carpet as she posed for pictures in her brave choice of outfit that could easily have comprised her modestly if a strong gust of wind came along.
The DJ had feared the worst before arriving at the premiere which was held at the new Westfield Centre in Stratford and headed to social networking site, Twitter to share her anxiety with fans.
She tweeted: 'On way to Twilight prem w/ @LaurenGoodger, hope we aint too late! I musta used a whole roll of tit tape on my dress, pls stay in place!! Ha.'
But the DJ luckily managed to avoid any wardrobe malfunctions during the course of the night.
Meanwhile, fellow cast member and best friend Lauren Goodger chose a more understated look and opted for an elegant asymmetrical long black dress with diamante detail on the left shoulder.
What do you think of Lauren's dress? Are you loving it or hating it?