A Swedish retailer has listed a remastered Uncharted trilogy for release on PS4 later in 2015. The page – since removed – simply said "Uncharted 1-3 in HD! More information soon!" and listed 30 September as a release date.
Accompanying it was box art later revealed to be fan-made by Reddit users. While this does hinder the validity of the listing, it is not uncommon for accurate early listings to use fan art as a placeholder until official box art is made available.
The unofficial cover art was created by James Walker and can be seen on his website. Below is a screen-cap of the Swedish site's listing before it was taken down.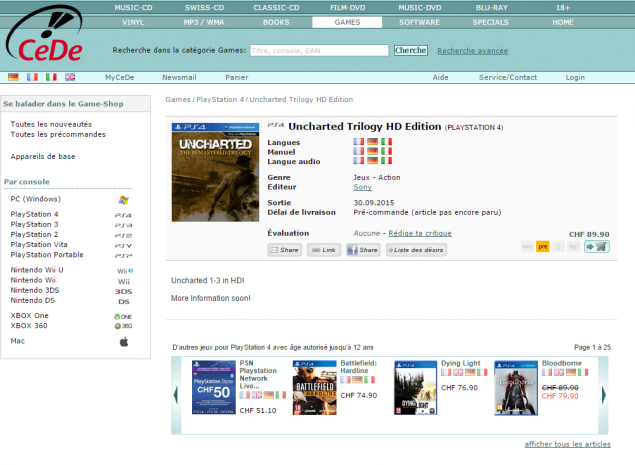 While this is far from solid information, a remastered Uncharted trilogy is certainly a distinct possibility given both the remake trend that has bogged down this new generation of consoles and the fact Uncharted 4: A Thief's End was recently delayed until 2016.
If official word were to come from Sony or Naughty Dog then E3 in June would be the ideal platform for that to happen. Were the game to exist, it would help plug the hole left in Sony's late 2015 schedule by the delay of the fourth Nathan Drake adventure.