A London-based dessert company has created an aphrodisiac ice cream designed especially for women.
According to The Licktators, the ice-cream, dubbed Vice Cream, was created to 'give women's sexual appetites a deliciously natural boost'.
Described as 'an intense female Viagra ice cream, it contains 'a wicked triple-ripple of aphrodisiacs' namely Ecuadorian chocolate, plant-based pleasure enhancer Lady Prelox and British whipping cream.
The Ecuadorian chocolate has the effect of stimulating the release of serotonins, the brain's natural pleasure-enhancers while Lady Prelox is a natural, plant-based pleasure enhancer made from pine bark that boosts libido and encourages blood-flow to the sexual regions.
A dietary supplement made by German company Horphag Research, Lady Prelox is said to "synergistically promote sexual comfort and pleasure."
The sensual eating experience is enhanced by the addition of whipped cream.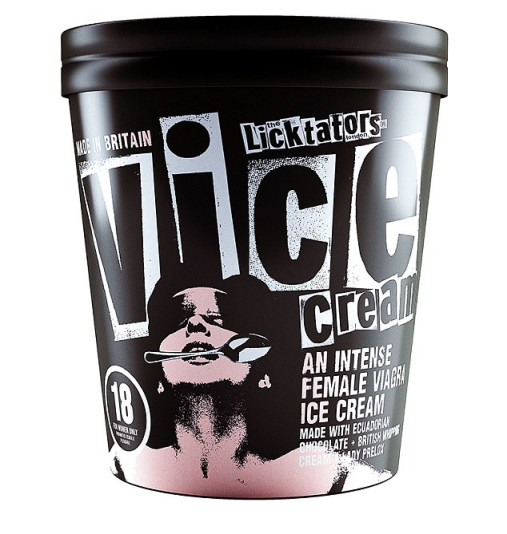 Miss Whiplash, head of the The Licktator's Whipping Room, said they hope to see women "screaming for Vice Cream on Valentine's Day."
"For many women, eating chocolate ice cream is already a sensual experience. So we thought why not turn the volume up to 11 and give all the lovely ladies out there a big, raunchy boost.
"Whether you think you need it or not, or you simply fancy recreating the ice cream scene from Fifty Shades of Grey, bringing Vice Cream into your life can only make your sex life saucier," she added.
The new ice-cream was made in the The Licktators' secret south London 'Whipping Room.'
The company is well-known for its inventive flavour combinations and unique product names including General Custard, Choc N Roll Rehab; Doughnut Disturb; Marshmallow Law and John Lemon.