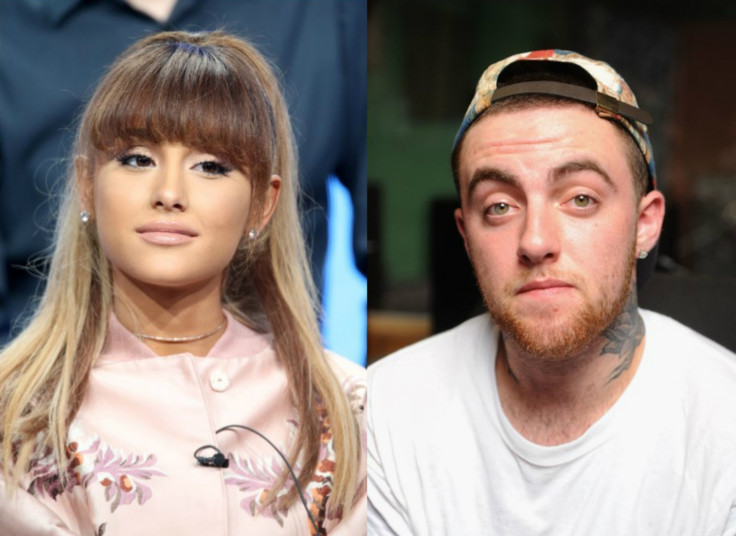 As one of the most desirable pop stars on the planet any new development in Ariana Grande's personal life is guaranteed to make gossip columns, but it's safe to say she has grown exasperated by a certain line of questioning. The Dangerous Woman's singer's interview with Ryan Seacrest took an awkward turn after he quizzed her on her rumoured romance with rapper Mac Miller.
Everything started off pleasant enough with the pair discussing the 23-year-old's new album, love for Madonna and upcoming Dangerous Woman tour but once the host brought up her rumoured new beau, her demeanour instantly changed.
Seacrest broached the topic by saying: "So I saw you confirm this relationship with Mac Miller on Instagram."
The Way collaborators first sent tongues wagging after after they were pictured kissing during a dinner date in Los Angeles on 21 August. However, Grande didn't like the direction of the conversation and instantly tried to shut him down by replying: "Oh, is that what I did? Is that what Instagram means to you now?" before demanding "What was that segueway?"
Not easily deterred, the radio personality pushed forward with his line of questioning: "Well I don't know, I'm asking," he said explaining that once you posted intimate images on social media you opened yourself to questions.
His theory did little to pacify the annoyed star who hit back: "If I post something, that's what I'm willing to share at the moment. That doesn't mean you, Ryan Seacrest with millions of listeners, are entitled to more information."
Although he tried to laugh off the cringeworthy moment, it promoted a strong response from the listeners as well as the online community. While some commentators accused Grande of being a diva others came out in her defence.
One fan pointed out: "Ariana is surely entitled to place her own boundaries on what she is willing to share about her private life. She did so in a strong and direct manner. Fair enough. Why does that imply 'diva'?"
It seems that Grande may have taken a leaf out of Jenna Coleman's book with her frosty response. Back in August, the Queen Victoria star couldn't hide her annoyance when Good Morning Britain's Kate Garraway used the royal connection to segue into a question on the nature of her relationship with Prince Harry.
The line of questioning, however, didn't go down too well as Coleman, who was pictured "looking flirty" with the flame-haired royal at the Audi Polo Challenge at Coworth Park in Ascot in 2015. She shot daggers and coldly replied: "No, he's a friend of mine."
Watch the awkward moment interview: