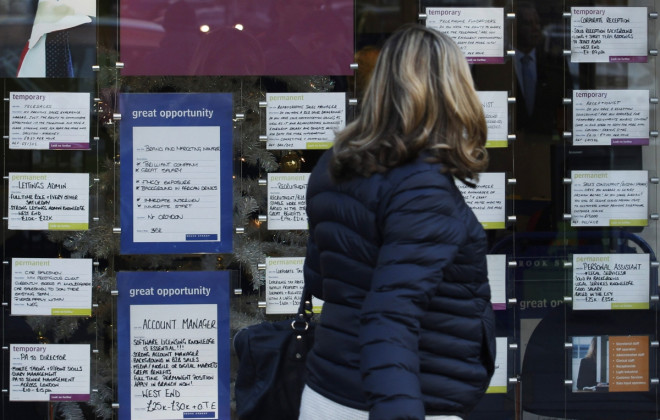 The Coalition Government will be looking forward to tomorrow. The UK's official figures will be released and the consensus is that the country's employment levels will have continued to grow.
The labour market figures will also provide the political parties with fresh ammunition to fire at each other across the House of Commons during Prime Minister's Questions later that day. The biggest missiles – the "bunker busters" – are the headline employment and unemployment figures.
It is generally agreed that the jobless rate will dip to 6.8% in the three months to March, down from 6.9%. But as the late American economist John Kenneth Galbraith warned: "The enemy of the conventional wisdom is not ideas but the march of events."
John Philpott, director of consultancy The Jobs Economist, seems to have taken Galbraith's message on-board. Philpot "broadly agrees" that the jobless rate will dip by 0.1%. But he argues that the problem with unemployment rate predications is that they are based on three month, rather than month-by-month, comparisons. However, Philpott does note that "the underlying trend is downwards."
Adam Memon, head of economic research at the Centre for Policy Studies, is a little bit more optimistic.
"[A drop of the UK's unemployment rate] to 6.8% seems quite reasonable," he says. "If you look at hiring intentions and expectations of robust output growth, it seems likely that we're going to see another quite positive set of labour market statistics."
Indeed, the Chartered Institute of Personnel and Development's (CIPD) most recent Labour Market Outlook net employment index increased to +26 from +16 since the Winter 2013/14 report – representing the highest score since autumn 2007.
Likewise, the Recruitment and Employment Confederation (REC) and KPMG's permanent staff placements/billings index hit 63.8 in April, up from 62.6 from March.
A reading above 50 signals a higher number of placements/billings than the previous month. This means hiring intentions have continued to accelerate.
But Gerwyn Davies, labour market adviser for the CIPD, is a little more cautious than his economist colleagues.
"It's very difficult to call on whether the unemployment rate will fall or not," Davies warns.
"The jobless figures are based on three month averages and if you look at last month's figures, which were so good, you might expect that to tail off somewhat – as they have done in the past. It's unpredictable."
However, Davies does stress that "the important point" is that the broader labour market trend in the UK is that employment is growing.
Youth Unemployment
But, moving away from the headline figures, what expectations are there for youth unemployment. Will the country's 16 to 24 year olds be benefiting more from the UK's economic recovery? There were more than 880,000 young people out of work in the three months to February, do the economists think much has changed since then? Well, the consensus seems to be "no" – at least not in the short-term.
"There's been some progress [with youth joblessness], but I don't think there's any reason to suggest that there will be a large movement because it will probably take quite a long time before we see big reductions in youth unemployment," Memon says.
Philpott is a little more optimistic and expects to the UK's high youth unemployment rate of 19.1% in the three months to February to eventually fall.
As more job vacancies are created, then I think that will help young people," Philpott explains. "The key difficulty is that there are skills issues with some young people."

He adds: "Progress on the employability front will be relatively slow and won't bring about the big, dramatic improvement in youth unemployment. For that you need a much stronger period of economic growth."
So it seems the UK's youngster will have to wait their turn for the economic recovery to help them into work. But as they bide their time, there was one labour market trend all the economists picked up on – the growth of self-employed people.
Self-employment
The Office for National Statistics (ONS) recently revealed that stronger self-employment cushioned the fall in the level of employment across the UK between 2008 and 2011. But between 2011 and 2013, much of the recovery in employment is due to a combination of higher numbers of employees and self-employment.
In addition, analysis from the Trades Union Congress (TUC) found that self-employment has accounted for 44% of all employment growth since May 2010 – despite the fact that self-employment is a relatively small part of the UK jobs market.
The surprising thing of late is that employee jobs haven't grown as much as one might expect from all the employer surveys," Philpott says.

"You see very strong levels of hiring intentions [in the research], yet most of the growth in employment seems to be in self-employment. At some stage I would expect the balance to shift more towards employees – it's difficult to be precise about when that will happen."
Davies says we will see continuation of the self-employment trend and, in particular, part-time self-employment.
"What we are still seeing is that there's a relatively high degree of slack – (room for growth) – in the UK's labour market," Davies explains.
"We are seeing strong growth, but we are also witnessing high numbers of applications per job for unskilled and low-skilled vacancies. There are still some huge challenges at the bottom end of the labour market for jobseekers.
"The challenges are particularly acute for ex-public sector employees, particularly managers, many of whom almost have no option but to come self-employed and maybe set up a consultancy."
Zero-Hours Contracts
Worries of instability in the UK's labour market inevitability lead to the most talked about employment issue – zero-hours contracts. The employment agreements, which provide flexibility to employers, have become a political hot topic.
The government completed its consultation into zero-hours contracts in March and is expected to report on its findings soon. But the Business Secretary Vince Cable has supported the idea of banning "exclusivity clauses", where a worker signed up to a zero-hours contract cannot work for another employers. Ed Miliband has raised the stakes.
The Labour Party leader has promised to outlaw the "worse abuses of the system" by enabling workers to be free to work for other employers, have a right to compensation if shifts are cancelled at short notice and, among other things, not be obliged to be available outside contracted hours.
The ONS recently estimated that there were around 1.4 million zero-contracts being used by UK employers in early 2014.
But Davies argues that we could see a reversal of the trend in zero-hours contracts for two reasons.
As the job market continues to tighten, more employers will be almost forced to offer better employment conditions and pay to attract staff. That's not the case at the moment, but I think that will increasingly become the case as the unemployment rate falls.

"Political parties are trying to be seen to be acting on this issue. They are undoubtedly going to be making zero-hours contracts less flexible than they are currently. Those kinds of measures will make employers think 'what are the alternatives' and turn to fulltime employment contracts or simply shift to another form of casual labour such as agency work."