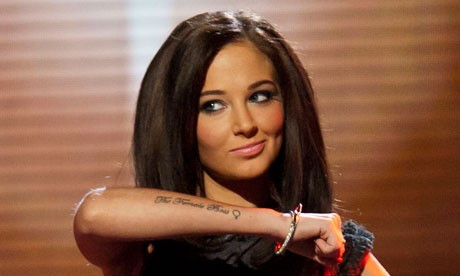 "X Factor" judge Tulisa Contostavlos is facing the wrath of Ofcom over claims that she is has been using the show to promote her new perfume by making a hand gesture.
The 23-year-old N-Dubz star is being investigated by the regulator after complaints flooded in from viewers that by making her signature right arm salute at the start of each show, the singer is promoting her perfume on "The X Factor."
Contostavlos, who has tattoo that reads, The Female Boss, launched her new fragrance, which has the same name at the Perfume Shop in London last month.
Even though she got the tattoo at the start of the year before "X Factor" started, the watchdog is now looking into whether the singer and "X Factor" bosses broke the rules on product placement in programming by allowing her to greeting the audience with her forearm across her chest to show her tattoo.
The broadcasting watchdog is also probing into a pre-recorded segment on the shows' spin-off programme, The Xtra Factor which also reportedly highlighted Contostavlos' perfume.
The footage, which aired at the end of October, shows the N-Dubz star talking about her fragrance and revealing the connection between it and her to her signature gesture.
The move comes after "The X Factor" was found guilty of product promotion and referencing of commercial products with references to new singles by Diana Vickers and Michael Buble earlier this year.
Meanwhile, the regulator also received a number of complaints from viewers at the weekend about popstar Rihanna sporting a pair of shoes with a swear word written on them when she performed on the pre-water shed live show. Ofcom has not yet decided whether to investigate.
Do you think Tulisa is guilty of promoting her perfume on the X Factor or do you think it's just a coincidence?