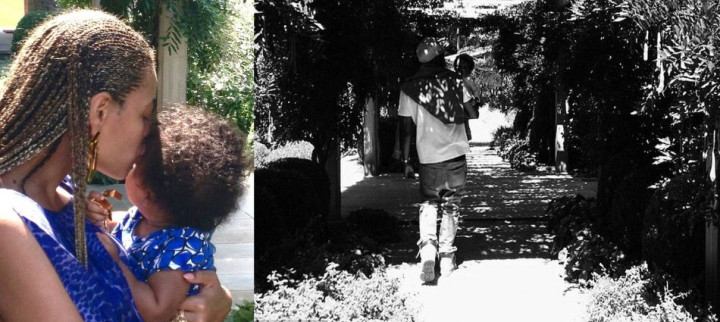 Grammy Award-winning singer Beyoncé Knowles-Carter and rapper husband Jay-Z are generally careful not to reveal details of their private lives; particularly since they are now parents to Blue Ivy. However, the world-famous couple has begun to change in recent weeks, with the 31-year-old Crazy in Love singer sharing photographs of her daughter (her face remains hidden though) on her official website.
The post also included a Thanksgiving message: "From my family to yours. Wishing you a happy and healthy Thanksgiving. Beyoncé."
One photograph shows Beyoncé wearing blond and black cornrows and kissing Blue Ivy's forehead. In a second photograph, in black and white, Blue Ivy is carried by her father as the two walk through a tree-covered avenue.
Beyoncé has made family photographs public before - a vacation album from her birthday celebrations in the south of France, for example. However, this is the first time Blue Ivy has featured so prominently in her releases.
Blue Ivy was born on 7 January, at the Lenox Hill Hospital in New York City. Her mother has revealed the inspiration for her name came from a poem by Rebecca Solnit and the little girl is already a global citizen - she is a honourary resident of the Croatian island of Hvar, where a then-pregnant Beyoncé was captivated by the unusual colour of a tree's bark.
Finally, Blue Ivy is already a celebrity in her own right and that worries her parents. Her father earlier told American talk show host Oprah Winfrey that he was afraid his daughter would become the "worst, most spoiled little kid ever".