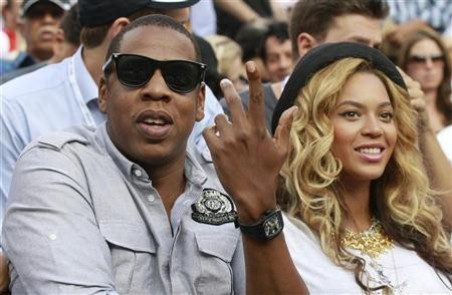 Beyoncé has revealed that she listens to Rick James's raunchy track Make Love To Me before taking her husband Jay-Z to bed.
The notoriously private star gives fans a rare glimpse into her private life in a behind-the-scenes video from her GQ magazine photo shoot.
Opening up about her bedroom antics she said: ''If I'm scared, be scared, allow it, release it, move on. I think I need to go listen to 'Make Love to Me' and make love to my husband,'' she said.
Showing off her sensual side in her New York apartment, the Single ladies hitmaker poses seductively for the camera in the shoot with famed photographer Terry Richardson.
One outtake shows her appearing in just knickers and an over-sized, unbuttoned shirt playing karoke.
The star, who is scheduled to appear in this year's Super Bowl halftime show, then turns up the heat by taking the cameras into her bedroom, where she jumps up and down on the bed while holding a football.
During the interview, 31-year-old diva, who gave birth to her daughter Blue Ivy Carter in January 2012, also admitted she still struggles with accepting just how powerful she has become.
''When I was writing the Destiny's Child songs, it was a big thing to be that young and taking control," she said.
''And the label at the time didn't know that we were going to be that successful, so they gave us all control.
''And I got used to it. It is my goal in life to be that example. I now know that, yes, I am powerful. I'm more powerful than my mind can even digest and understand.''