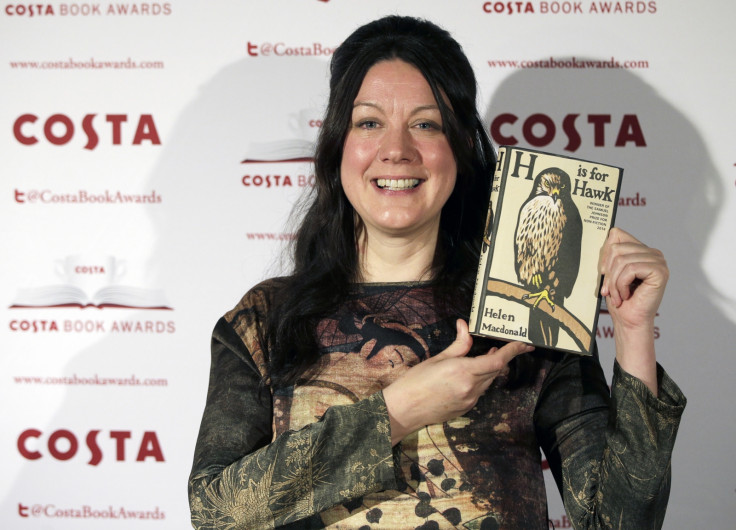 The winner of the £25,000 Costa Book of the Year 2014 Helen Macdonald gave an emotional speech as she received her prize at a champagne reception in Quaglino's.
"Oh my goodness! I had a speech made but it's gone. It's an extraordinary privilege. I'm really, really blown away."
The prize-winning author went on to thank Costa coffee shops in Newmarket, where much of her writing was done. Macdonald joked that they thought her something of an eccentric: "She's a bit odd that one!"
H is for Hawk was described as a "very haunting book" by the judges. It tells of the story of how the Cambridge historian, illustrator and naturalist was so stricken with grief following the sudden death of her father that she nearly went mad and decided to train the most untameable of raptors, the goshawk, in order to assuage her grief.
"We are all alone at some time and I chose a hawk not to be alone with," explained Macdonald.
The book also weaves in a biography of TH White, who also tried to train a goshawk more than 60 years before her.
The writer Robert Harris, who chaired this year's judges, said it was a book that haunted several members of the panel and was one they would never forget.
"Everybody agreed it was wonderful, muscular, precise, scalpel-like prose. It was a very clever and accomplished piece of writing that wove everything together.
"There are some books that win prizes because they demand it and then the public don't quite get it. This is a book I think which everyone will like."
The judges included actors Dame Diana Rigg and Samantha Bond, the BBC economics editor Robert Peston, and writers Owen Sheers, Jonathan Stroud, Bernardine Evaristo, Wendy Moore and Maggie O'Farrell.