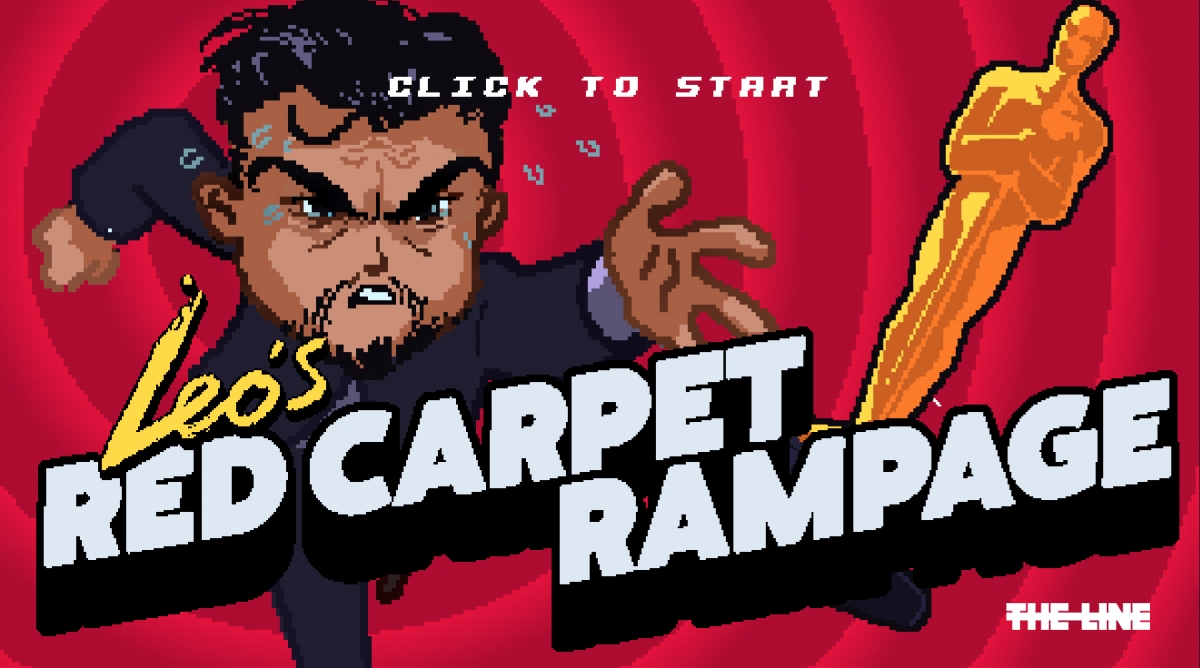 This year's Hollywood awards season has been about one thing: Leonardo DiCaprio's quest for overdue glory at the Oscars. Including this year, the 41-year-old has been nominated five times – previously losing out in 1994 (for a supporting role), 2005, 2007 and 2014.
As this year's Academy Awards ceremony approaches, at which DiCaprio is nominated in the Best Actor category for his leading role in epic revenge drama The Revenant, a London-based team of animators has put together a game about the actor's road to Oscar glory.
Leo's Red Carpet Rampage is simple button-masher cast in the look and sounds of classic arcade side-scrollers. In it, the Titanic star races along the red carpet, leaping over reporters, racing fellow nominees and collecting Baftas, Golden Globes, Emmys and other prizes that already adorn his trophy cabinet, all while chasing that illusive Oscar.
The game was made by The Line Animation and designed specifically by Max Van der Merve at Electric Theatre Collective. Design work was handled by Bjorn-Erik Aschim and Sam Taylor.
It's a wonderfully mad, fun and well-made free game that inventively sends up the awards season (collecting other less meaningful prizes in pursuit of an Oscar) and includes mini-games such as mashing buttons quickly to "act harder", trying to find the black nominee in a crowd of people and writing an acceptance speech.
DiCaprio's fellow nominees in the Best Actor category - Eddie Redmayne, Bryan Cranston, Matt Damon and Michael Fassbender - also show up (all in character) to race Leo to his prize. Is it actually possible to catch up and collect the Oscar? We don't yet know, but we're going to find out.
It's well worth checking out if you have a spare five minutes.
For all the latest video game news follow us on Twitter @IBTGamesUK