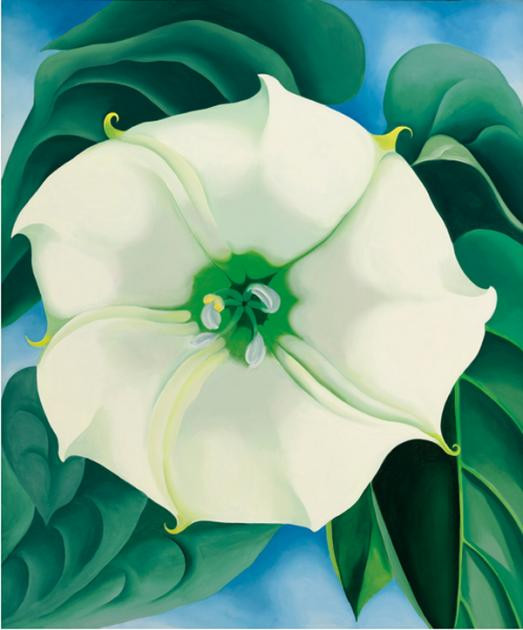 A painting by Georgia O'Keeffe has sold for $44.4m (£28.8m) at Sotheby's in New York – the highest price ever recorded for an artwork by a woman at the auction house.
Jimson Weed/White Flower No 1, painted in 1932, one of O'Keeffe's iconic works, far exceeded its estimated valued of $15m (£9.5m) on Thursday.
The floral painting was bought by an anonymous telephone bidder after an "intense bidding war" between two rivals, reports the auction house.
It smashed the previous record for the price of an artwork by a female artist – an untitled work by Joan Mitchell, which sold for $11.9m (£7.5m) in May.
O'Keeffe's painting was put up for sale by the Georgia O'Keeffe Museum in New Mexico, which needed to raise money for its acquisitions fund.
The highest price paid for an O'Keeffe work previouisly stood at $6.2m (£3.9m). The art auction record is a colossal $142.4 m (£90.8m) for an infamous work by Francis Bacon. The British artist's triptych, Three Studies of Lucien Freud, was sold at auction last year.
Georgia O'Keeffe, who died in 1986 aged 98, was widely regarded for her large-format depictions of flowers, presented as if seen through a magnifying lens. She made northern New Mexico her permanent home in 1949.
Jimson Weed/White Flower No 1 was last sold in 1994 for $1.5m (£670,000) at Sotheby's New York.