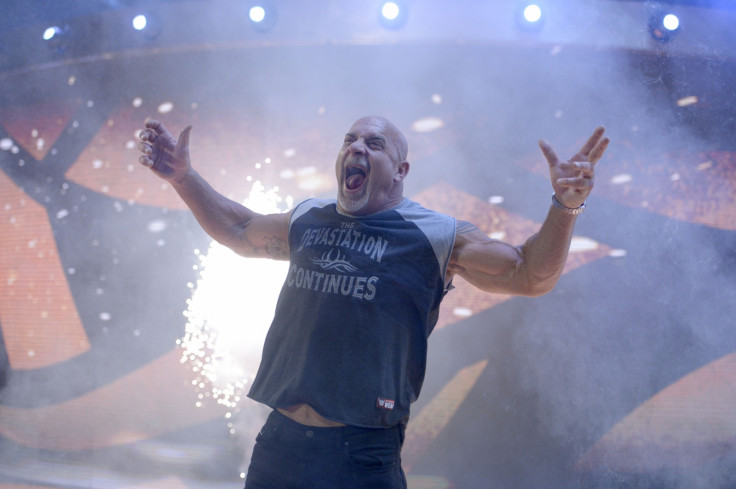 It seems like Goldberg is ready to make a comeback to the WWE with a fight as he has hinted at the possibility on social media.
The former WWE champion took to Instagram to tease his possible return to the squared circle with a photo, in which he can be seen flexing his biceps while asking his fans and followers "whosnext".
".... another day, another trailer...... @directv @directvnow commercial coming soon!! #doinwork #whosnext #imnext @wwe #wcw #wrestling #neversaynever #tornbicep #steinerimpression @goldbergsgarage," the former Universal champion captioned the photo.
Goldberg made his recent comeback to the WWE after a 12-year hiatus from the squared circle. His feud with Brock Lesnar kicked off on his return fight with the Beast Incarnate at Survivor Series in 2016 that culminated in the Universal Championship fight between the two superstars at WrestleMania 33 in April. Goldberg ended his recent run with a loss to Lesnar at the Grandest Stage Of Them All.
Let us look at who Goldberg could fight if he does make another return
Brock Lesnar
On his return, Goldberg could challenge Lesnar for the Universal Championship that he lost to the latter at the Showcase of the Immortals.
Kurt Angle
The Olympic Hero, who is currently working as general manager of Monday Night Raw, is eager to step in the ring as an active wrestler. The fight between Angle and Goldberg could help the company boost its dipping TRP ratings.
Braun Strowman
In a recent interview with Wrestling Inc, Goldberg said he would love to fight Braun Strowman if he returns to the company.
"There's so much young talent there that have the possibility of being the next superstar. Obviously, the guy with the big push now is Braun Strowman, but unfortunately he is hurt. Great kid and a great work ethic, obviously great character," Goldberg said.
"I would be remiss that stepping in the ring with Roman Reigns wouldn't be fun. There are a lot of guys of being worthy to be getting their ass kicked by me; at the end of the day, there are a lot of great people to leave this business with," he said.
"I think the stars of the future are right on the cusp of breaking out. There is a plethora of talent ready to be the next big thing."