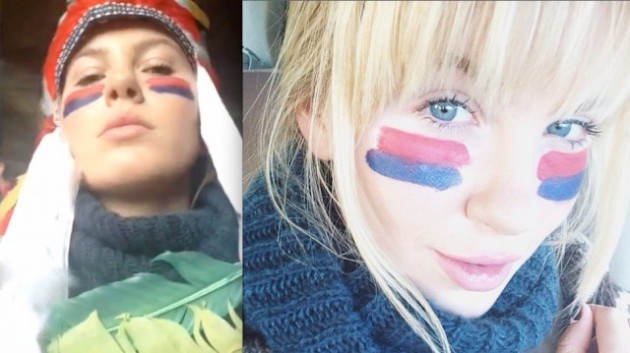 American fashion model Ireland Baldwin received criticism on Twitter, after she revealed her plans to dress up as a Native American Disney character for Halloween.
The 18-year-old daughter of actors Alec Baldwin and Kim Basinger, posted images of herself wearing a feathered headdress and two stripes of paint on her cheeks. Many people reacted on the micro-blogging website, claiming it to be insensitive.
"This is who I was being for Halloween at Disneyland. You all are pathetic," she wrote, along with a picture of the chief from Peter Pan.
However, she was prompt to remove the photos, but defended her choice of outfit.
"Deleted the picture because it was insulting all the poor little white girls who need a racial cause to be apart of for attention," she went on, "Ok everyone. I apologizse if my Halloween costume offended you and your culture PERSONALLY. However, I don't apologize to a majority..."
She repeatedly apologised, claiming she did not intend to hurt anyone: "I respect all cultures and I would never mock one. I am Cherokee Indian and I am also well aware of what many tribes encountered in the past"
Recently, American country music singer/actress Julianne Hough received backlash after she dressed as Crazy Eyes, from the hit show Orange is the New Black, while attending a Halloween Party in Beverly Hills, California.
The 25-year-old later took to her Twitter account to apologise, tweeting, "I am a huge fan of the show Orange Is the New Black, actress Uzo Aduba, and the character she has created. It certainly was never my intention to be disrespectful or demeaning to anyone in any way. I realize my costume hurt and offended people and I truly apologize."