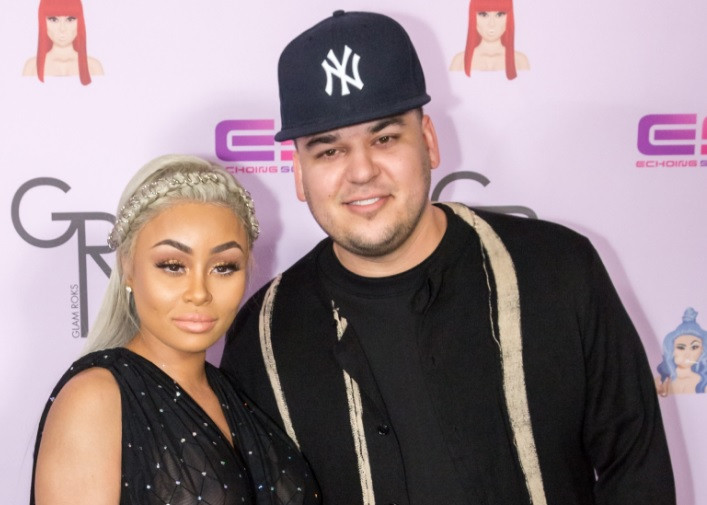 With the reality of his legal woes setting in, Rob Kardashian has started to regret his revenge porn attack against former fiancee Blac Chyna.
On 5 July, Kardashian stunned fans by postinga string of x-rated posts of Chyna, real name Angela White, claiming she taunted him him with affairs with other men. He captioned one video:"Today Chyna sent me a video after I just bought her 250K of jewellery," Kardashian alleged. "She sends me this video... of another man in our bed."
She hit back by enlisting the services of legal honcho Lisa Bloom, asking the courts to grant a restraining order that prohibits 30-year-old Kardashian from going near her or posting about her online. She also alleged that he had been abusive towards her, which he denies.
TMZ now reports that the Arthur George sock designer and brother of Kim Kardashian has apologised to his family for his actions, which were widely condemned and prompted the mother of his child to take legal action.
The publication said he wishes he dealt with his suspicions that the former exotic dancer had affairs with multiple men and was a gold digger privately.
"He's spoken with all of his sisters and his mom, telling them he has no excuse for posting nude pics of Chyna and her medical information on social media," an insider said. "He said he regrets he didn't deal with the Chyna drama privately and said it wouldn't happen again.
The source adds that he wishes that he acknowledged all of the Kardashian women warned him Chyna was "bad news" and he should stay away".
The underlying issue was that Rob is Kylie Jenner's brother, and Kylie dated Blac Chyna's former fiancé Tyga. If things were not complicated enough, Kim Kardashian also used to be BFFs with Blac Chyna.
Although the Kardashian/Jenner clan have yet to publically address the scandal, insiders say they have 'accepted' his apology.