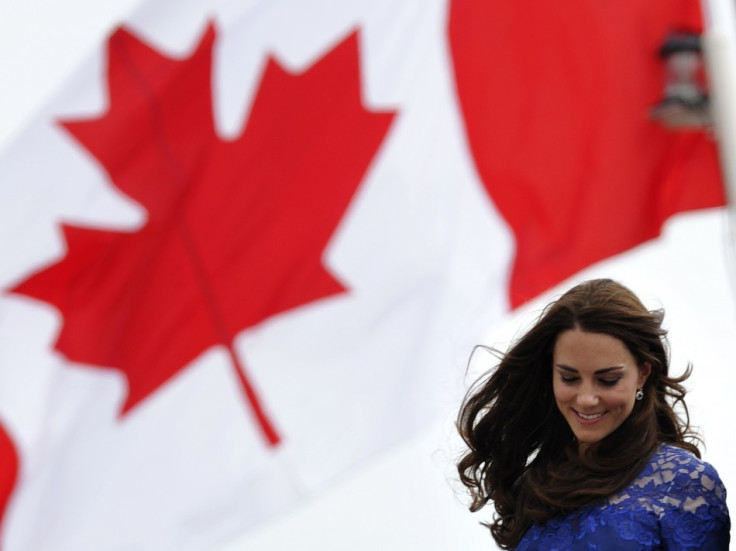 Canada's Airbus 001 has become like a haven for the royal couple during the whirlwind tour, says the pilot of the jet that's been shuttling the Duke and Duchess of Cambridge across the country.
Lt.-Col. Andy Cook told Postmedia News on Monday that Will and Kate are using the unglamorous aircraft's surroundings, usually reserved for the prime minister, as a tranquil refuge between their very public appearances.
"The amount of pressure and the amount of people who are always watching the Prince and the Duchess at all times, I think our two tiny rooms in this aircraft are a real haven for them. I tell you when they walk on the airplane, they go in there and the door closes and except for one steward that serves them personally - if they want a coffee or something like that - they are on their own. And they are no longer the Duke and Duchess and they are just a newly married couple," Cook said.
So far, he said, the couple has kept to themselves, cocooned in the state room enjoying its tranquillity and emerging only minutes before the doors of the aircraft open.
"They haven't really moved a lot around the airplane at this point. We've certainly made the offer, if he wants to come up and sit behind the controls on the way to Yellowknife today, once we are up at altitude, they are very very welcome," Cook said. "But I think what they have been enjoying is comfort and the serenity of being out of the public's eye when they are in the airplane."
Before heading to Yellowknife, the Duke and Duchess of Cambridge yesterday, went head to head in a Dragon Boat race on Prince Edward Island.
Both royals were merely meant to be steering, but decided to join in and help their teammates at the last moment. "We are both very competitive. She beats me at tennis and skiing but I am better at the rest," said William before Kate then "jokingly" tried to push her husband in the water.
As William's team won against Kate's by just a few inches, the Duke, while raising his champagne prize told his wife: "There's no chivalry in sport".
The same day in Dalvay-by-the-Sea, William showed off his rescue helicopter piloting by taking part in a "waterbirding" exercise, which involves dunking a helicopter in water and then restarting its blades before it sinks to the bottom. Kate stood on the lakeside taking pictures.