Way back in 2012 Ubisoft provided one of the most memorable video game reveals in the history of E3. The trailer showing off Watch Dogs for the very first time bowled people over, and was also one of the first glimpses at what the impending PS4 and Xbox One consoles were capable of.
History casts that trailer in a different light. The game wasn't released for a further two years and, when it did it, looked worse than fans were led to believe. It led to changes in how games were marketed, but the hype it generated was enormous.
Ubisoft has followed up each of its E3 press conferences since with similarly huge, surprising or impressive announcements. In 2013 it was Tom Clancy's The Division, in 2014 it was Rainbow Six Siege, in 2015 it was Ghost Recon Wildlands and in 2016 it was... well, it was Steep.
What has Ubisoft got up its sleeve for 2017? IBTimes UK has been given that some thought. Below we'll run through what we will see, what we might see and what we hope to see from the annual showcase.
No much is set in stone for Ubisoft this year. The only major unreleased game we know of is South Park: The Fractured But Whole. Once set for a December 2016 release, the game was delayed until the first quarter of 2017 and then delayed once again. It's now expected in the current financial year – so any time between now and next May.
To ease fan concerns, Ubisoft will need to update them on the state of the game and hopefully offer a concrete release date.
Assassin's Creed is Ubisoft's biggest property, and despite taking a break in video game form last year it was still present at E3 thanks to the Michael Fassbender movie that released around Christmas. It's the games people are most interested in though, and recent leaks have begun to give us an idea of what to expect.
Assassin's Creed Origins is reportedly the name. It'll be set primarily in ancient Egypt, include sea-faring travel and combat as well as a greater focus on exploration. Leaked screenshots appear to confirm the Egyptian setting and naval aspect, and those were validated by the ever-reliable Eurogamer.
This will be Ubisoft's big focus of course, but wouldn't fit the bill of a surprise. It may also be unveiled before E3 as was the case with many of the more recent games in the series. Expect it to launch at the end of the year.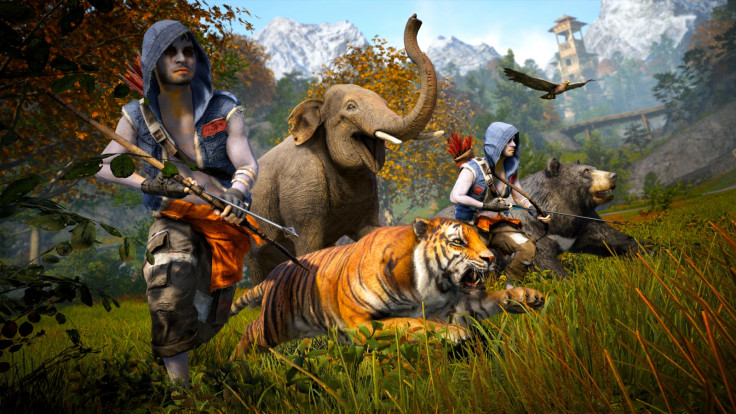 Another recent rumour has been in regard to Far Cry 5. The rumour itself is shaky at best so we won't go into it, but a new Far Cry game is a good bet for Ubisoft's show. After last year's pseudo-spin-off Far Cry Primal, expect the next game to bear a closer resemblance to Far Cry 3 and 4 (ie it'll have guns and vehicles).
Hopefully it'll have dinosaurs too. Seriously Ubisoft, a Far Cry game with dinosaurs is a no-brainer. Did you see how much money Jurassic World made? Help yourself to a chunk of that cheddar.
Ubisoft likes to parade out some dancers for a minute or two to announce the inevitable new Just Dance release, so expect the same for Just Dance 2018. The rumoured Mario + Rabbids RPG Ubisoft has been working on with Nintendo may get a mention, but that will depend on when Nintendo's own E3 showcase occurs and whether the game has been announced in advance.
Recently released Ubisoft titles such as Rainbow Six Siege, Watch Dogs 2 and Ghost Recon: Wildlands could get a mention in regard to their individual DLC plans, the latter being the most likely.
So what might Ubisoft surprise us with? In February CEO Yves Guillemot said the company expects to launch four AAA releases during the current fiscal year ending 31 March 2018. One of those will be South Park, another Assassin's Creed and Far Cry is a good fit for the third – but what of the fourth?
In Watch Dogs 2 Ubisoft included one of gaming's great Easter eggs: a meta mission lampooning video game leaks about leaking a new game from an in-game version of Ubisoft. At the end of the mission, protagonist Marcus finds footage of a colourful science fiction title that could be from a real life unannounced Ubisoft game.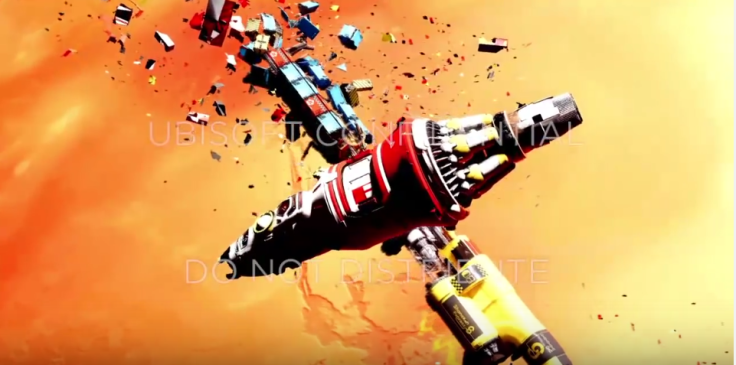 Another possibility is Beyond Good & Evil 2, which has been rumoured to be a Nintendo Switch exclusive (potentially a timed one) for some time, with the most recent report surfacing in January. If that's the case though, it's unlikely to be Ubisoft's big surprise game as those are typically multi-platform.
Tom Clancy's The Division 2 could be teased, but the inevitable sequel certainly won't be released during the current financial year, so it won't be the mysterious fourth game.
So, this is where we mention Splinter Cell, the seemingly forgotten stealth series Ubisoft hasn't touched since 2013's Blacklist. Four years on, the time is right, not just for a new Splinter Cell, but for a proper stealth game in a similar vein to those original Cell games, including the superb Chaos Theory.
The series veered towards action later on, with Blacklist striking the best balance between action and the series' covert origins. In August 2016 a new Splinter Cell was rumoured, and if Ubisoft is still planning to make a film based on the series, it will certainly be thinking of its future as a game series too.
Ubisoft hasn't announced when its E3 press conference will be taking place, but typically it takes place on the Monday (so 12 June this year) prior to Sony's conference at around 9pm UK time.
For all the latest video game news follow us on Twitter @IBTGamesUK.