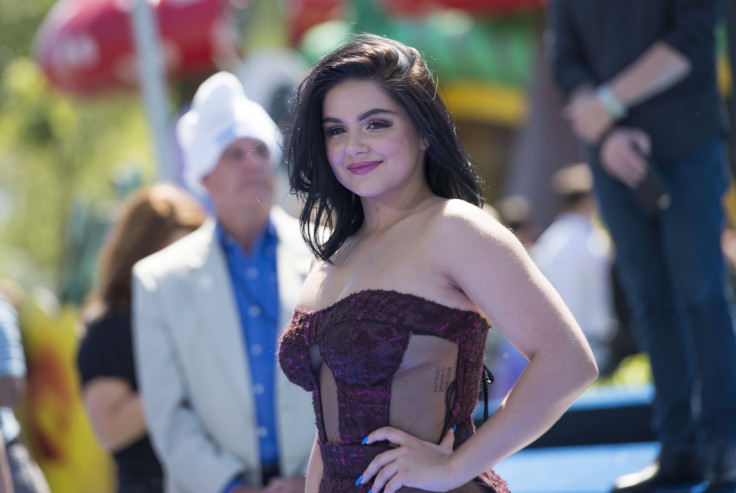 Having come under fire for wearing a risque outfit comprising of Daisy Dukes that showed off her well-proportioned behind and cowboy boots during a recent trip to her supermarket, a defiant Ariel Winter is refusing to tone down her scantily-clad style.
The Modern Family star, who regularly shares her outfits on social media, has posted a snap of herself wearing another pair of tiny shorts while her boyfriend Levi Meaden carries her on his shoulders.
In the picture, which has 126K likes and counting, the pair turn away from the camera to show off their Seattle Seahawk jerseys. Both of their tops are emblazoned with 31, the number of forward safety Kameron Chancellor.
"Happy #Football #Sunday!!!!! Go #Seahawks! @seahawks @nfl
P.S. I'm so scared of being on someone's shoulders I'm literally ripping @levi_meaden's hair out of his head...enjoy :)))" the caption read.
Scores of her 3.6m followers quickly flocked to her page to comment on her outfit. While some complimented her body, others claimed she was desperate for attention. "You definitely know your best assets. get it haha," one person said while another added: "You have the cutest little booty."
A third urged her to "stop objectifying women".
The online community was also left divided by her NFL team choice. "Um I didn't think Ariel was a Seahawks fan, she just became 10 times hotter," one person said. Another vented: "Noooo how could you??? ☹️☹️☹️ Go Packers!!!"
Winter recently took to Twitter to defend grocery shopping in barely-there shorts over the US public holiday Labour Day. One paparazzi photo showed her bent over as she put the shopping in the boot of the car. "I literally do not try and show my a** when I wear shorts," the 19-year-old actress told her 639K followers on. 5 September. "My a** just eats them up and then I don't notice...awkward af."
She recently informed "haters" and "body shamers" that she planned to wear shorts all summer long. "Get over it. It's hot, I'm obviously going to be wearing minimal clothes. Also, I'm not 'squeezing' into anything," she said.