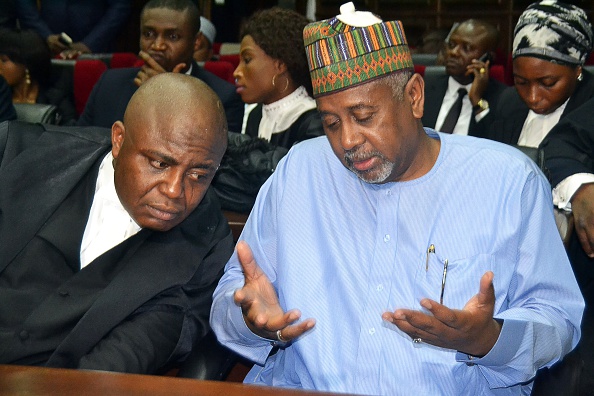 Nigerian authorities have arrested a former state security adviser accused of stealing funds intended for the fight against Boko Haram terrorists. Sambo Dasuki was accused by President Muhammadu Buhari of awarding contracts to buy 12 helicopters, four fighter jets and munitions worth $2.9bn (£1.8bn) that, in reality, were never purchased. He denied the allegations.
Dasuki, who worked as security state adviser for former leader Gooluck Jonathan, was apprehended by operatives of the state security service (DSS) in his house in the federal capital of Abuja.
Buhari ordered his arrest in November following a preliminary investigation on the procurement of arms during the previous administration. Former Sokoto Governor Attahiru Bafarawa and founder of Africa Independent Television (AIT), Raymond Dokpesi, were arrested by the Economic and Financial Crimes Commission in connection with the same alleged arms fraud.
Dasuki denied any wrongdoing and said during an interview with PR Nigeria that he was proud the army had managed to push Boko Haram terrorists out of its self-appointed Islamic caliphate in north-eastern Nigeria while he was still in control of the offensive.
He had already been placed under house in connection to other charges of money-laundering, involving more than $423,000 and illegal possession of weapons seized at two of his houses. Last year, the former security adviser was called before a senate committee to explain why South Africa had blocked a $5.7m (£3.7m) bank transfer and seized $9.3m (£6.1m) in cash, arguing the funds involved illegal arms transactions, a claim Dasuki rejected.
Dasuki's arrest came as Buhari launched an anti-corruption campaign to tackle fraudulent activities and recover funds he alleged were stolen during previous administration. In recent months, several high-profile government officials have been accused of wrongdoing and subsequently fired.
Nigeria up close: Check out our Flipboard magazine
Who are Nigeria's Boko Haram terrorists?
Boko Haram (renamed Iswap) fights against Western influence in Nigeria and aims to impose its version of Sharia law throughout occupied territories. The group declared an Islamic caliphate in Gwoza, along the Cameroon border, in August 2014.
Boko Haram carries out attacks in Nigeria and neighbouring countries in a bid to take control of more territory. Three Nigerian states − Adamawa, Borno and Yobe − have been under a state of emergency since May 2013.
Boko Haram has killed between 17,000 and 20,000 people since 2009 and was deemed the world's deadliest terror group, surpassing its ally the Islamic State (Isis), in November. Nigeria has become the world's third most terrorised country as a result of the group's violent insurgency.