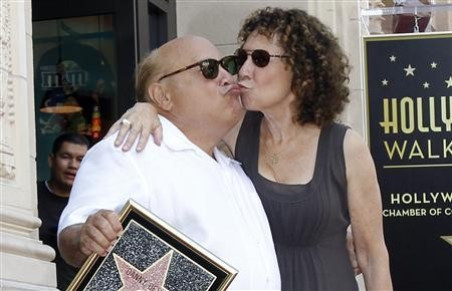 Danny DeVito has split from his wife of 30 years, Rhea Perlman.
The long-time Hollywood couple's rep, Stan Rosenfield, confirmed the news but declined to give any further details.
DeVito met Perlman when the pair were both starting out in acting.
After living together for 11 years, the 67-year-old Always Sunny in Philadelphia star and Cheers actress tied the knot in 1982.
In a 1983 inteview with People magazine Perlman said that DeVito "was a lot more fun and a lot more sexy" than her previous suitors. DeVito described his wife as "vibrant, with a great sense of humour, and real warm".
During their marriage they set up the successful movie production company, Jersey Films, with titles including Pulp Fiction to their credit.
They also worked together on the classic 70s sitcom Taxi and played cruel parents Harry and Zinnia Wormwood in 1996 comedy Matilda.
They have three children - 29-year-old Lucy, Grace, 27, and Jacob, 25.