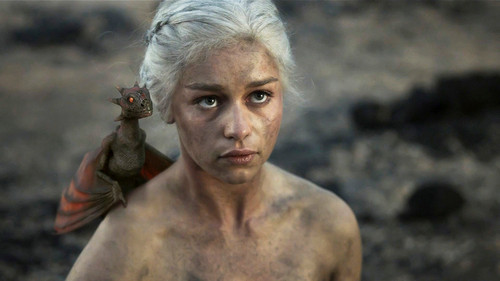 Game Of Thrones star Emilia Clarke has slammed reports that she hates filming sex scenes, insisting she was misquoted. Earlier in September, the Daily Mail reported that the British actress, best known for playing "Mother of Dragons" Daenerys Targaryen on the hit HBO series, preferred her sex scenes "subtle" and hinted she was not a fan of "gratuitous" on-screen romps.
"I'm British, so I cringe at that sort of thing anyway – I can't stand it," she said, appearing to reference Game Of Thrones, which has been heavily criticised in the past for the level of nudity and extreme violence. "Most sex scenes you see in films or on TV are gratuitous and they're usually just to attract an audience. On screen, the subtler the better."
But now she is setting the record straight on her feelings about filming sex scenes. Taking to social media, the 28-year-old star said her quotes were taken "entirely out of context" and revealed she was followed into a party by a journalist who had asked her about "female empowerment" for "an outlet [she] didn't agree to speak with". Clarke went on to clarify she believes nudity is acceptable as long as it adds depth and insight into the character or advances the narrative.
"In drama, if a nude scene forwards a story or is shot in a way that adds insight into characters, I'm perfectly fine with it. Sometimes explicit scenes are required and make sense for the characters/story, as they do in Westeros," she wrote alongside a still of her character.
"If it's gratuitous for gratuitous sake, then I will discuss with a director on how to make it more subtle. In either case, like a good Mother of Dragons, I'm always in control." She also added the telling hashtags "#dracarys #bodiesmaybetemplesbutmindsarewhatmatter #MODforreal".
Season six of Game Of Thrones is currently being filmed in Belfast and various locations in Spain. It is expected to return to screens in April 2016.