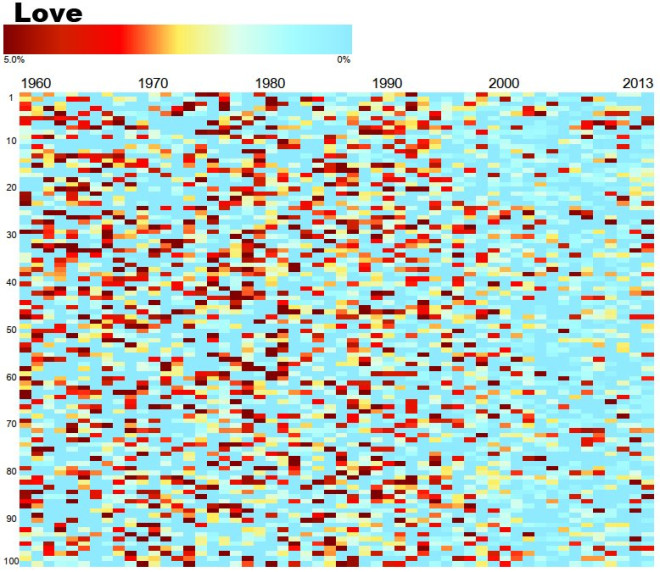 Data artist Nickolay Lamm has revealed love was the most popular song theme in the 1960s, while sex features more predominently in modern times.
Lamm, who is known for his models of what Barbie would look like as a real woman, analysed the lyrics of every song that has appeared on the Billboard Hot 100 singles charts since 1960.
In a series of graphs, he has revealed that the words "money", "weed", "body", "foul" and "hate" appear more often in modern music. In the 1960s, "lonely", "heart" and "I love you" were more popular, while "boys" and "girls" have featured consistently across the decades.
It was also revealed that "girls" appear more often in music than "boys", while the words "we/us" have gained popularity since the late 1970s.
According to Lamm, here is how to decipher the charts: "The horizontal axis is the year of the song's release and the y-axis is the song's popularity according to Billboard Year-End Hot 100 singles.
"Each cell represents a song. The more red a song is, the more often that particular word appears in the song. For example, if a song has five "love" words and a total of 100 words in the entire song, that song is assigned a 5% value and a particular shade of red. The higher the percent, the darker the shade of red."
Lamm's previous work includes a series of photographs called What Do Cats See, which depict a feline visual field of 200 degrees, in comparison to the human 180 degrees.
He has also created animated GIFs which reveal what Los Angeles, Chicago, Miami and San Francisco would look like if buildings were as tall as its residents are wealthy.