Nick Cannon recently got his tattoo tribute to Mariah Carey covered with angel wings and now it looks like the musical powerhouse is making some changes of her own.
The 44-year-old superstar covered the classic Billie Holiday song Don't Explain while performing in Tokyo over the weekend, and reportedly changed the lyrics to "I know you cheated, mother****er".
According to TMZ, the lyric change left fans at her The Elusive Chanteuse Show stunned and wondering if it was in reference to her recent marriage troubles.
It has been speculated that Carey was referring to the rumours about Cannon having an affair with Amber Rose - who recently filed for divorce from her husband Wiz Khalifa.
There have also been reports of him having trysts with several young models on his Wild N' Out show.
However, the America's Got Talent host denies all of the rumours.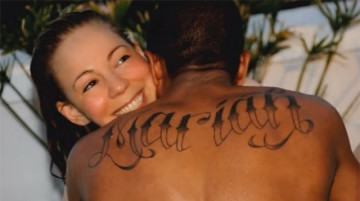 Cracks in their marriage appeared back in March when Cannon, 33, gave a radio interview and listed the top four celebs he slept with before meeting his wife.
"Alright, Christina Milian, Nicole Scherzinger—I'm trying to name people that people already know. Um, Selita Ebanks, Oh Kim Kardashian! Bow! This is easy."
The Drumline actor was not afraid to elaborate on sleeping with Kim Kardashian, calling her a "wild girl" and telling the radio host "You just forgot because she has been with a lot of people since me."
Carey, who is allegedly conscious of her age, was left humiliated from the comments and tore into Cannon for weeks, according to TMZ.
Although the couple have not publicly confirmed the divorce, they have been living separately for several months and according to E! News, Carey's plans to split from Cannon are still on course: "She has made up her mind, she is definitely divorcing him."