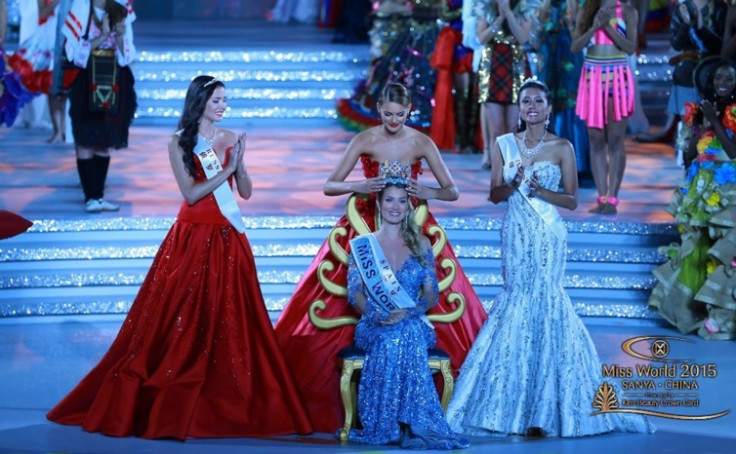 Miss Spain Mireia Lalaguna Royo has won the Miss World 2015 crown, beating 116 other contestants at a glittering ceremony held at the Beauty Crown Grand Theatre in Sanya, China.
She was handed her crown by the reigning Miss World 2014, Rolene Strauss of South Africa, and cheered on by second and third runners-up, Miss Russia Sofia Nikitchuk and Miss Indonesia Maria Harfanti
According to the official website of Miss World organisation, the 23 year-old is a student of pharmacy and her dream is to further her studies with Nutrition, before setting up a business in nutrition and dietics to find alternative health solutions to orthodox medicines.
All the contestants of the 65th edition of Miss World contest went through a series of activities and events before the live pageant begins and were awarded scores for the same. This year the beauty queens were given five challenges including Beauty with a Purpose, Multimedia, Sports, Talent, and Top Model.
Here are the winners:
Miss World 2015 Top Model – Miss Spain Mireia Lalaguna Royo
Miss World 2015 Sportswoman – Miss Namibia Steffi Van Wyk
Miss World 2015 Multimedia – Miss Philippines Hillarie Parungao
Miss World 2015 Talent – Miss Guyana Lisa Punch
Miss World 2015 People's Choice Award – Miss Vietnam Trần Ngọc Lan Khuê
Miss Beauty with a Purpose – Miss Indonesia Maria Harfanti
Miss Natasha Hemmings from England could not secure a position in the top 20 in the annual beauty pageant.
The top 10 contestants of Miss World 2015 are from Russia, the Philippines, Guyana, Lebanon, Spain, Jamaica, France, South Africa, Spain and Australia.
The Miss World contest is one of the oldest international beauty pageants was first started in the UK in 1951 by Eric Morley. The contest was introduced as part of the Festival of Britain.
It is customary for the newly crowned Miss World to spend their winning year in London and travel around the world representing the Miss World Organisation (MWO) and its causes.