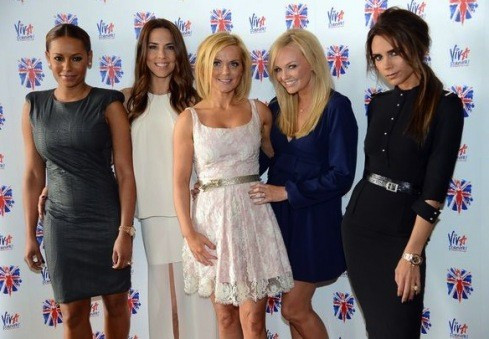 They were all smiles when they recently reunited to at the launch of their new musical Viva Forever, but Spice Girls' fans will be disappointed to hear that it may have all just been for the cameras.
According of Closer Magazine, there is trouble in the Spice Girls' camp and the girls are no longer even friends.
Former Spice Girl turned fashion designer Victoria Beckham has apparently revealed that there are a "lot of bad vibes" between the girls and they only "pretend to get on so well."
A source close to the 38-year-old mother-of-four told the celebrity weekly that she had complained about having to pretend to get on with her ex-bandmates at the Viva Forever launch last month.
She is allegedly said: "I couldn't handle the bad vibes. It felt so forced - it's like we're clinging on. It was awful, I nearly couldn't go out and do it."
Beckham reportedly made a hasty exit from the Spice Girls reunion, claiming she needed to return home for her daughter, Harper, in a desperate bid to get away from the other Spice Girls.
Less than 24 hours after the reunion she was back with her family in Los Angeles.
The final nail in the coffin came when she tweeted about enjoyed seeing Emma Bunton, but did not mention any of the other girls.
The source explained the reasons behind the bad blood telling the magazine: "She didn't think she managed to conceal her emotions at all. Victoria said that apart from the official photo calls she didn't want to be in the same room as Mel B and she wasn't looking forward to seeing Geri.
"Victoria feels she's completely moved on, but said she finds it amusing how they now pretend to get on so well when they barely talk to one another anymore."