The last 12 months made up an impressive year for the high-end tablet market, with Samsung, Sony, Google, and others all producing credible Android alternatives to Apple's iPad range.
We've already published our favourite budget tablets of 2014, so without further ado here's our top 10 flagship tablets of the year.
---
1. iPad Air 2
---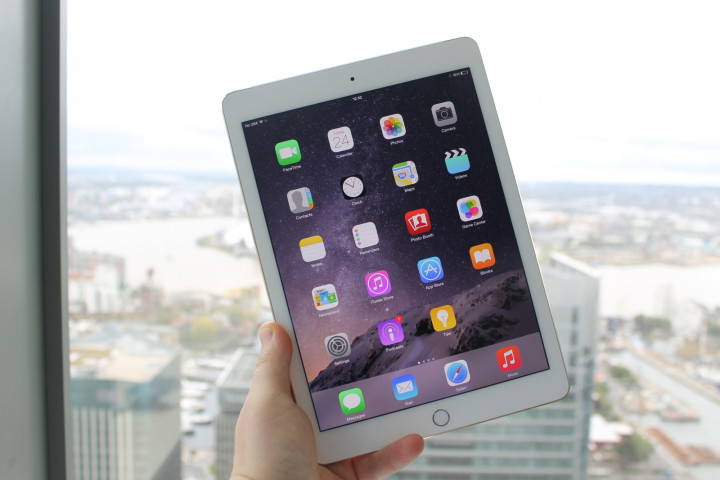 iPad Air 2 Key Features:
Thinnest iPad ever.
9.7in Retina display.
iOS 8.
Touch ID fingerprint scanner.
Price: from £399.
It may seem boringly predictable putting Apple's latest and greatest in the number one spot, but the competition will take solace from this year being Apple's least convincing barrage in the tablet war to date.
Taking nothing away from the incredibly light and thin Air 2, Apple has clearly produced a hugely impressive tablet here - but it's one which doesn't present the sure-fire opportunity for an annual upgrade we've become used to.
The Air 2 adds a Touch ID fingerprint scanner, more powerful processor and a thinner design, but there's little here to recommend it over the original. Apple wins by default, but it shouldn't expect an easy ride in 2015.
---
2. Sony Xperia Z3 Tablet Compact
---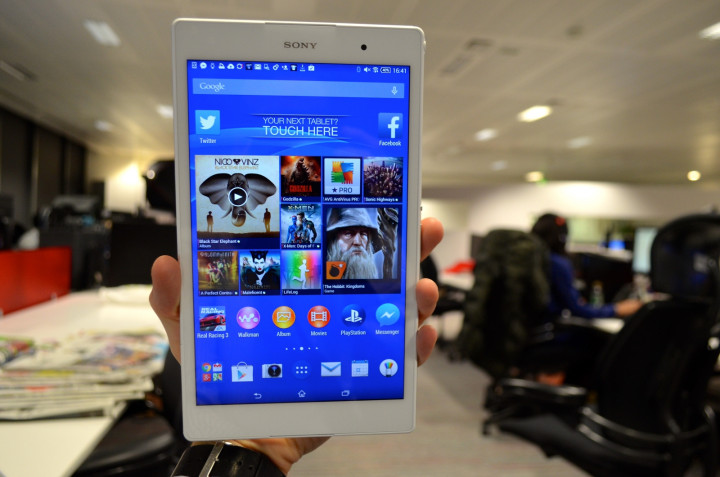 Sony Xperia Z3 Tablet Compact Key Features:
8in Full HD screen.
Waterproof to 1.5 meters for 30 minutes.
Dual front-facing speakers.
Price: £329.
As the iPad mini failed to deliver, the award for creating the best small tablet was up for grabs - and Sony reached out to claim it with both hands. The Xperia Z3 Tablet Compact might be a bit of a mouthful, but the 8in tablet is one of the best we saw in 2014.
The tablet, waterproof to one meter for 30 minutes, has a Full HD screen, dual front-facing speakers, and with the upcoming Remote Play app will let you connect a Dual Shock 4 controller to play your PlayStation 4 games from a different room.
---
3. Samsung Galaxy Tab S
---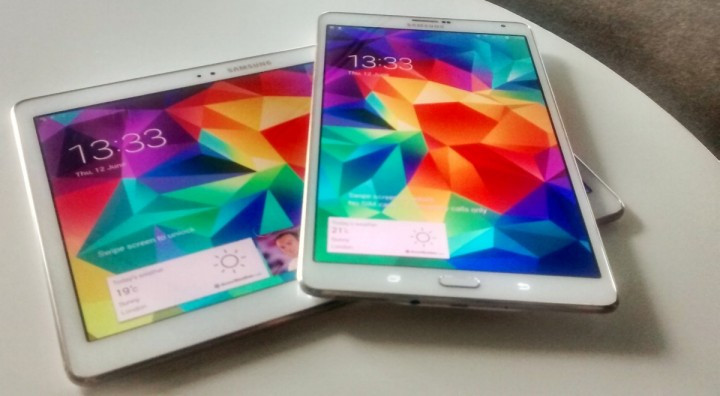 Samsung Galaxy Tab S Key Features:
Available with 8.4in or 10.5in screens.
Storage expandable by up to 128GB.
Optional 4G.
Fingerprint scanner.
Price: £260 (8.4in), £340 (10.5in).
Available in two sizes - 8.4in and 10.5in - the Galaxy Tab S is Samsung's closest shot yet at the Apple iPad. Both models have screen resolutions higher than Full HD, both are thin and light, and they are priced exactly the same as the equivalent iPad Air and iPad mini.
The pair are powered by quad-core processors, have storage which can be expanded by up to 128GB, and there is a 4G model of each. If you're looking for an Android alternative to either iPad, Samsung has you covered with the Tab S.
---
4. Sony Xperia Z2 Tablet
---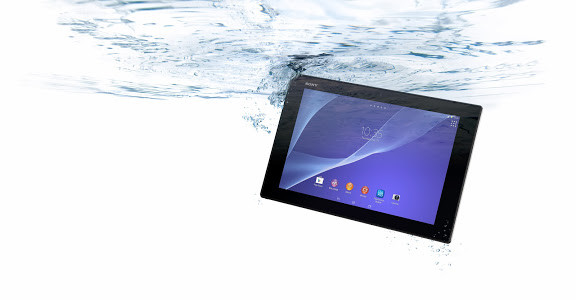 Sony Xperia Z2 Tablet Key Features:
Waterproof to 1 meter for 30 minutes.
4G optional.
10.1in display with 1200 x 1920 resolution.
Storage expandable by 64GB.
Price: £340.
Just as Samsung has large and small tablets to take on the iPad, so too does Sony. The Xperia Z2 Tablet may be a generation behind the Z3 Compact above, but they are closely related. The Z2 has a Full HD screen which measures 10.1in, and being just 6.4mm and 439g the Sony is incredibly thin and light for a large tablet. The Z2 Tablet is waterproof to a depth of one meter for up to 30 minutes.
With the same quad-core processor and 3GB of RAM as in the Z3 Tablet Compact, the Z2 Tablet is every bit as fast as other flagship tablets on the market, while a software update to Android 5.0 Lollipop is coming soon.
---
5. Tesco Hudl 2
---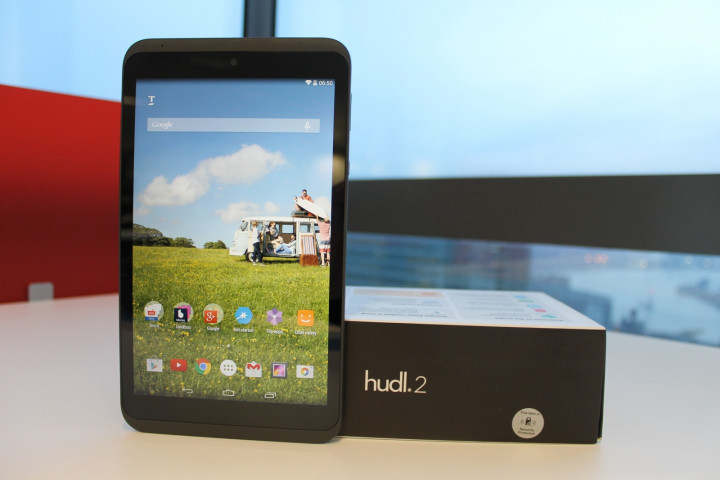 Tesco Hudl 2 Key Features
8.3in Full HD screen.
Soft-touch plastic cover.
Eight different colours.
Intel Atom processor.
Price: £129.
We already gave the Hudl 2 praise in our budget tablet guide, but it's so good we thought we'd include it here too. The 8.3in screen is Full HD, there's plenty of power from an Intel Atom processor, and the soft-touch plastic body is available in eight different colours.
Despite costing just £129, the Hudl 2 really is a worthy alternative to much more expensive tablets from Apple, Samsung and Sony.
---
6. Google Nexus 9
---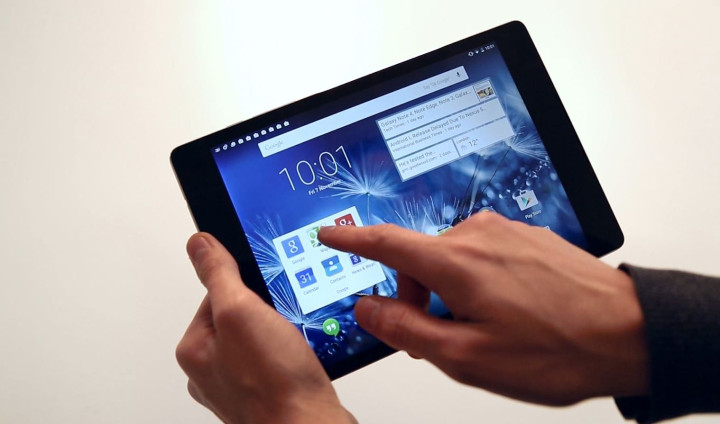 Google Nexus 9 Key Features:
Android 5.0 Lollipop.
8.9in screen with 1536 x 2048 resolution.
Nvidia Tegra K1 processor.
16/32GB storage.
Price: from £319.
Bucking a trend of producing great budget tablets, for its Nexus offering this year Google drafted in HTC to design the premium Nexus 9, the first product to run Android 5.0 Lollipop.
The 8.9-inch display has a resolution higher than Full HD, while power comes from a tegra K1 processor by Nvidia. At this size the Nexus 9 fits somewhere between each pair of iPads, Samsungs and Sonys, and is priced identically to the iPad mini 3.
A matte plastic back, metal bezel and protruding rear camera make the Nexus 9 stand out from the Android competition, but given the HTC partnership this isn't the One (M8) tablet we were hoping for.
---
7. iPad mini 3
---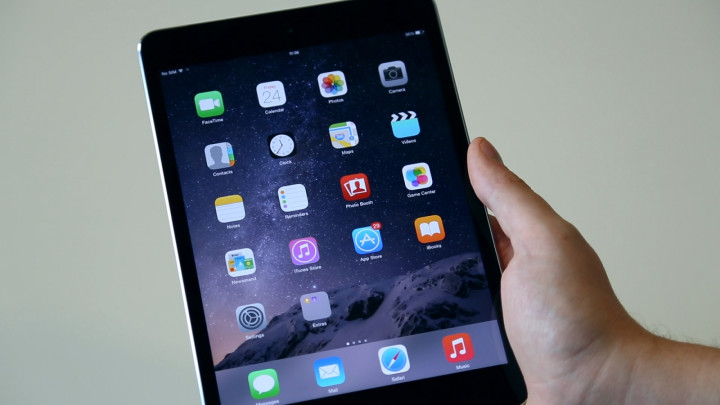 iPad mini 3 Key Features:
7.9in display (2048 x 1536).
iOS 8.1.
Touch ID.
16, 64, 128GB storage.
4G option available.
Price as reviewed: £659 (4G, 128GB, Space Grey).
We're as surprised as you are to see the iPad mini 3 this far down the list of 2014's best tablets, but it's here for good reason. Mostly, this year's mini left us cold because it does very little to improve on last year's second-generation tablet, which is still sold by Apple at a discounted price.
The 3 adds a Touch ID fingerprint scanner and gold colour option, but that's it.
The processor, screen, storage and design remain completely unchanged from last year, forcing us to say Apple has to work harder if it's to dominate the small tablet market. Where previously Apple had this sector to itself, increasingly strong competition means it can no longer rest of its laurels.
---
8. Amazon Kindle Fire HDX 8.9
---

Amazon Kindle Fire HDX 8.9 Key Features:
8.9-in screen with 2560 x 1600 resolution
Mayday customer support
16/32/64GB storage
4G included
Price: from £329
Updated earlier this year, Amazon's flagship Kindle Fire tablet is your one-stop-shop for everything the online retailer has to offer. Films and TV episodes are streamed from Amazon to the Fire's 8.9in screen, which has a resolution higher than Full HD, and behind it are dual speakers.
There's 16, 32 or 64GB of storage, depending on how much you want to spend, and battery life is around 12 hours. Plus there's Mayday, which connects you instantly to a video chat with an Amazon representative, should you need help fixing a problem with the tablet. Not running Google apps like Chrome, Gmail and the Play Store will put some off, but for those who use Amazon a lot (and have a Prime account), the Fire HDX could be perfect for them.
---
9. Microsoft Surface Pro 3
---
Microsoft Surface Pro 3 Key Features:
12in display with 2160 x 1440 resolution.
Up to Core i7, 8GB RAM, 512GB storage.
Expandable storage.
Stylus included.
Price: from £639 (tablet only).
A tablet Microsoft claims can replace your laptop, the Surface Pro 3 is a great big slab of magnesium with an adjustable kick stand at the back, a stylus, and an optional folio cover with integrated keyboard and trackpad.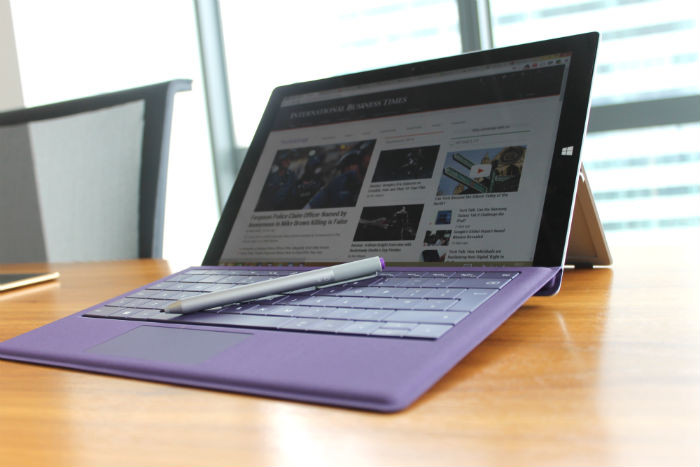 Add all this together, throw in a full desktop experience with Windows 8.1, and using the newest Surface is a lot like working (or player) on a high-end laptop.
The massive 12in screen makes it fairly chunky to carry around in place of a regular tablet, but the Intel processor (which can be specced up to Core i7 with 8GB of RAM and 512GB of storage) means the Surface Pro 3 acts just like a laptop when you need it to.
---
10. Samsung Galaxy Note Pro 12.2
---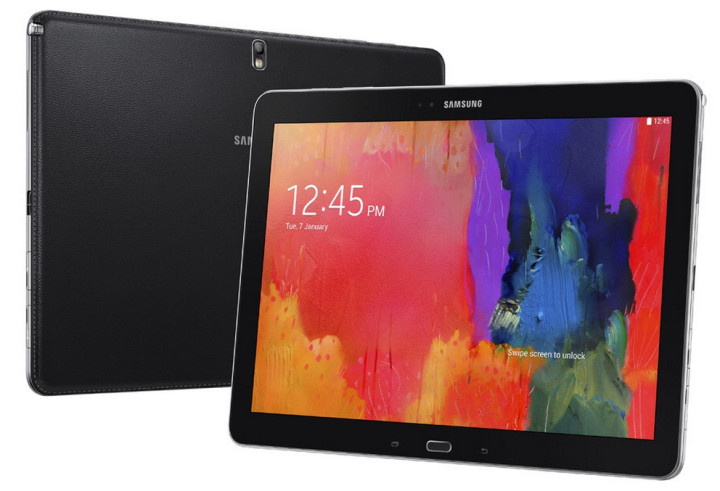 Samsung Galaxy Note Pro 12.2 Key Features
12.2in screen with 2560 x 1600 resolution
S Pen stylus
32/64GB storage, expandable by up to 64GB
Price: from £410
Another massive tablet, but this time one without dreams of being a laptop, too. The Galaxy Note Pro by Samsung has a 12.2in screen with an iPad Air-matching resolution, and can be controlled by touch or the included S Pen stylus, which makes sketching and jotting down notes easy.
Storage is expandable by up to 64GB, while the big screen means you can have multiple apps on screen at once. It also means an absolutely massive battery, which can power the tablet for 10.5 hours straight.