Opera star Katherine Jenkins has spoken out over David Beckham's "f*****g joke" comment concerning her OBE, branding the comments hurtful and ignorant.
The classical singer found herself at the centre of an unwanted storm after being personally criticised by Beckham in leaked emails written by the former England captain.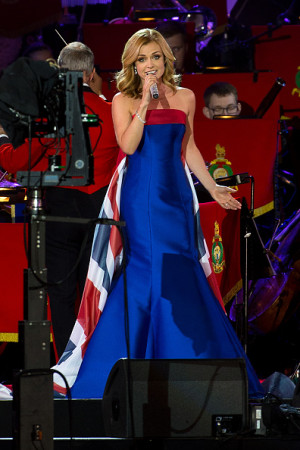 The exchanges, branded Beckileaks, revealed how Beckham, 41, fumed about Jenkins receiving the accolade for services to music and charity over his own United Nations initiatives in 2014.
Writing to PR manager Simon Oliveira, he stated: "Singing at the rugby and going to see the troops plus taking coke. F*****g joke."
But mother-of-one Jenkins, 36, has now hit back at the star, claiming he knows "nothing" about her.
Despite admitting taking cocaine in her 20s, the Welsh singing sensation remains adamant that she has changed course, and told The Sun's Fabulous magazine:
"I'm a human being. Of course, something like that would be hurtful.
"But at the same time, I've learned that when you're famous sometimes you get dragged into things you shouldn't be involved in.
"Sometimes people feel like they know you, but actually they know nothing about you."
However, when asked if she forgave the Beckham, Jenkins was far from unequivocal "You know exactly what I'm thinking!" she teased.
Beckham had kept a low profile since the email scandal.
Further messages appear to undermine for former Manchester United star's philanthropic standing, as he raged "unless it's a knighthood f**k off' and dismissed the Honours Committee as "unappreciative c***s".
When Oliveira suggested Beckham, who is worth £230m, put $1m (£800,000) into a Unicef dinner as part of his own charitable fund, 7, he replied: "If there was no fund, the money would be for me. This f*****g money is mine."
A total of 18.6 million communications are thought to have been accessed from the servers of Doyen Global, the sports management firm run by Oliveira.
Representatives for the former England captain says the messages were "hacked and doctored" and have been taken out of context to provide a "deliberately inaccurate picture".
Unicef has defended the footballing icon, praising his dedication during 15-year relationship with the charity that has "helped thousands of children". The 7 fund has raised more than £4.3m since it launched in 2015.