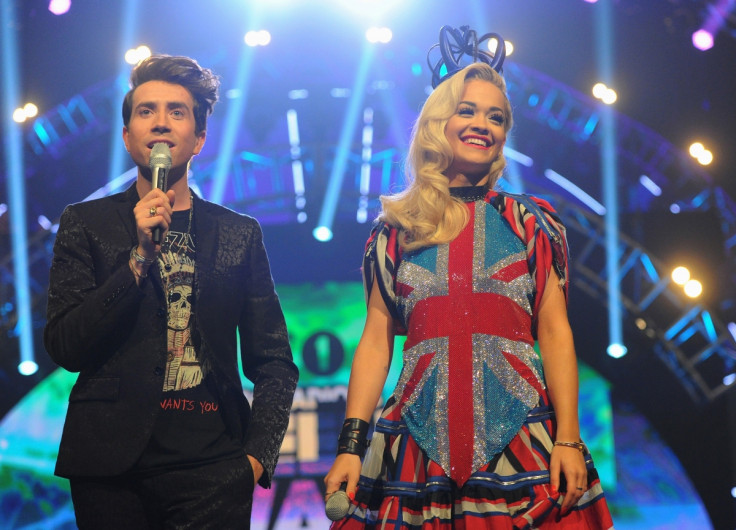 They only recently joined the X Factor judging panel, but it looks like Nick Grimshaw and Rita Ora may have already struck up a romance. The Radio 1 DJ has revealed that the pair shared a passionate kiss at Glastonbury festival while watching the Rolling Stones.
Speaking on his Radio 1 Breakfast Show Grimshaw explained that they shared a double bed when they joined thousands of revellers at the 900-acre site at Worthy Farm in Pilton, Somerset back in June.
"Over the course of the weekend, we got closer and closer… then we all went to watch the Rolling Stones and we ended up watching it with all our friends who were in relationships," the 41-year-old star said. "Then it would get to a romantic Rolling Stones song or a bit of a moment or an acoustic moment, you know there's flares going off, everyone's cuddling and stuff, and we were like, 'Why don't we have boyfriends?'" he continued.
"So then we decided to get off with each other for a bit." The DJ was then asked if tongues were involved during the smooch to which he responded: "Yeah! I don't know how to do it without tongues!" he joked.
Recalling their smooch, Grimshaw described Ora a 'wonderful' kisser, adding, "She doesn't take no for an answer. So it happened."
His admission comes days after the Body One Me hit maker confessed in a new X Factor promo clip that she had tried to kiss the radio presenter at the festival, but he turned her down. However, Grimshaw admitted that while he was hopeful, they have not shares a special moment since that day.
"No kisses since. We have not kissed since, but who knows she is single now."
In an interesting twist Grimshaw came out as gay in August 2012 having previously discussed his love life in heterosexual terms. In 2013 he admitted that he had also slept with women although it always felt like a act."It was fine. It wasn't horrible. Some of my gay friends can't touch a bra, but I was never like that, I wasn't repulsed. But it didn't feel natural," he told the Sunday Times. "It felt there was an effort, like, 'Oh, maybe I'll touch her hair now.' It felt like acting."
Ora is back in the market since splitting from boyfriend Ricky Hil in July. But it looks like Grimshaw may have some stiff competition from Chris Brown. The singer recently received a lap dance from Ora during a raunchy performance of her new single on Jimmy Kimmel Live.