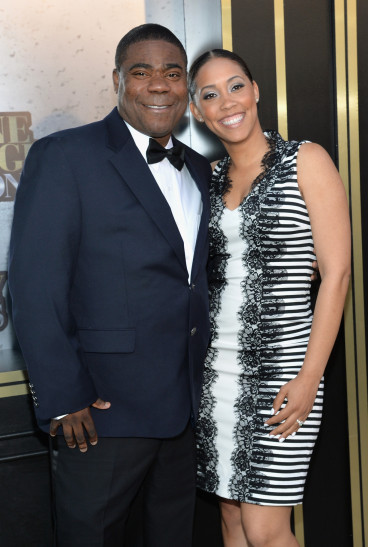 Comedian Tracy Morgan has finally got his happy ending after marrying his girlfriend Megan Wollover. The nuptials took place on 23 August, 14 months after the US actor was seriously injured in a fatal car crash.
People magazine confirmed that Morgan, 46, and Wollover, 28, tied the knot in an "intimate" ceremony with their two-year-old daughter Maven and other family members and close friends watching on. In a statement released to the magazine, happy bride Wollover said: "After almost losing Tracy last year, I am so grateful to finally be married to the love of my life.
"We have been through so much and our love is stronger for it. I'm so excited to see what our future holds and feel so blessed to spend the rest of my life with Tracy!" Incredibly, Morgan fulfilled his wish of walking down the aisle without the use of a cane after saying in 2014: "I don't want to walk my wife down the aisle with a cane or in a wheelchair. So I had to go hard with the therapy... I had to get better. There was no ifs, ands or buts about it."
Wollover had provided a support system for the 30 Rock comedian who suffered significant brain injuries in June 2014 when the Mercedes Sprinter he was travelling in was struck by a Walmart truck, killing Morgan's friend and fellow comedian James McNair. Opening up about the tragedy which almost took his life, Morgan told Matt Lauer in an interview: "Bones heal, but the loss of my friend will never heal. There are times when I have my good days and my bad days."
In addition to the new chapter of his life as a new husband, Morgan's career is set to resume with the comedian confirmed to return to Saturday Night Live to kick off the show's 41st season. Confirming the news, the funnyman tweeted: "Stoked to be going home...#SNL."