The dust has settled, the takes have cooled and the overly-excited throng of humanity in Los Angeles has presumably gone to bed. With the week's biggest press conferences now in the rear-view mirror, and the world still cooing over Nintendo's wonderful Zelda showing, it's time to take stock of the winners and the losers of this year's biggest E3 battles.
Below we run through the areas of the industry these companies were jostling for control of, and other crucial parts that make E3 what it is – highlighting a particular company that did very well and discussing those that did not. We start with hardware.
---
Consoles - Xbox
---
We knew there would be no new Nintendo console at E3, and Sony has either dodged a bullet or returned to the drawing board by not discussing PlayStation Neo at their show – only confirming its existence. Enter Xbox, with its incredibly tempting proposition.
The Xbox One S is 40% smaller than the current Xbox One, incorporates the power block into the machine, has three hard drive options up to 2TB, a vertical stand, HDR gaming, 4K video support and UHD Blu-Ray. This, at its entry price of £250, makes it the cheapest 4K Blu-Ray player (not upscaler) on the UK market.
Then there was Project Scorpio, a 4K gaming machine with 8 cores, 320GB of memory bandwidth and 6 teraflops of GPU power. That alone puts it on par with an Nvidia Geforce GTX 1070, and it is over four times as powerful as the current Xbox One architecture, as well as three times more powerful than the PS4. It's a beast, to the point that it makes you wonder if Sony found out and returned to the drawing board.
---
Games – Sony
---
This is tough because Xbox not only gave us games, they gave us release dates – plus, I'm very excited for Forza Horizon 3. However, a lot of it felt like a retread of old ground.
Sony gave us a God of War – which felt like a reboot and took inspiration from Naughty Dog. There were announcements for many PlayStation VR games that appear to be more than just tech demonstrations, a better look at Horizon: Zero Dawn, Detroit: Become Human, The Last Guardian (with a release date!), Days Gone, Resident Evil 7 (also coming to PSVR) and Spider-Man.
Microsoft offered plenty for the Xbox, but outside of We Happy Few, there was nothing really new or exciting to anyone who isn't already a fan.
---
Production Values – Sony
---
The Xbox showcase was also a visual treat, but there was just something about Sony's conference. LA's Shrine Auditorium looked stunning. It was just the right amount of minimal to highlight what was going on with the show, rather than make everything about the show itself.
A live orchestra conducted by Bear McCreary (Battlestar Galactica, The Walking Dead) introduced the show, playing a track from the new God of War, the soundtrack for which McCreary will compose.
Xbox offered that rather lame duck thing of having groups of people play pre-baked demos that always leads to awkward people holding bits of plastic, isolated on platforms in a large room. Ubisoft not only had the same uninspired set-up as year's past, but kept the awful, scripted in-game team chatter it loves to demo Tom Clancy games with. EA meanwhile, jumped from LA to London and back seamlessly – which deserves a mention.
---
Comedy – Ubisoft
---
Ubisoft were by far the funniest. Aisha Tyler is an incredible host who doesn't care for industry convention. Trey Parker and Matt Stone had a great time on stage showing off South Park: The Fractured But Whole, Star Trek's LeVar Burton was a delight and we got the return of the King of the Beards, Jason Vanderberghe, for For Honor. I hope he's available to run my Dungeons & Dragons sessions in future.
---
Exclusives – Xbox
---
That said, Xbox have nailed the exclusivity thing. Not because they have more of them – they're probably on a par – but because of Xbox Play Anywhere, a programme through which players buy a game and own it on both Xbox One and Windows 10.
The games that support Play Anywhere are accessible on both platforms, with online cross-play between them and cross-saves, so players are able to alternate between versions if they wish. Microsoft even made a little dig at Sony when they said cross-play would be available "where those networks allow", basically pointing out that the only thing you can't play together on is a Sony machine.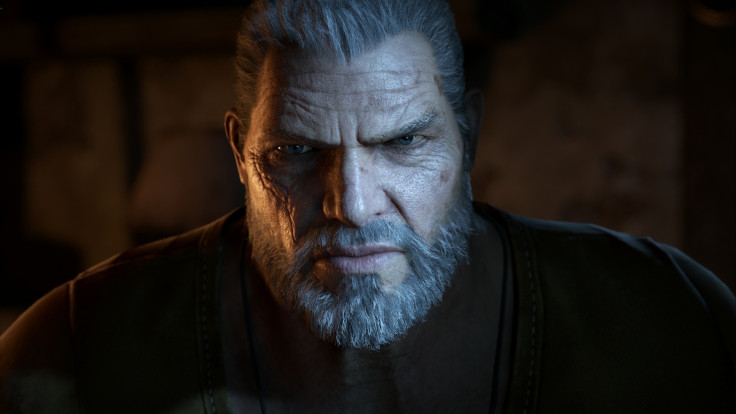 ---
Originality - Sony
---
Microsoft, Ubisoft, EA and Bethesda couldn't match Sony – who win this category pretty much solely for the reveal of Hideo Kojima's latest.
When you leave a job, sometimes you take a memento like a pen, or some kind of stationery. When Kojima left Konami, he must have taken the hard drive filled with Norman Reedus assets used for the abandoned Silent Hills game. I said we wouldn't see a Kojima announcement, and I was wrong. I mean, the guy's been touring the world living it up since leaving Konami, how has he had time to make a trailer like this? If he already had a few naked Norman Reedus scans, then he probably found the time.
Death Stranding looks like an incredibly complex visual world that only an auteur like Kojima could create. It raises questions for me like if that trailer was in engine, was that the Fox engine, and what the hell is going on? Thankfully, Holly Neilsen has answered the last part in her breakdown of the trailer for IBTimes UK. My one worry is that we get a David Cage situation. Kojima is a big deal for Sony, and I hope this game doesn't turn out to be all hubris and no substance.
---
Virtual Reality – Sony
---
It's not that Sony were the only people with VR. Ubisoft showed off Eagle Flight and Star Trek: Bridge Crew, which will come to all major VR platforms. Microsoft demoed Minecraft VR on stage (with a wonderfully enthusiastic John Carmack) and announced that Project Scorpio is being built to support VR too. Bethesda also announced a full, VR-supported version of Fallout 4 and a Doom VR experience. Sony, however, bowled out the exclusives.
Resident Evil 7 draws on what Capcom learned from their 'Kitchen' VR demo, and will be fully playable in virtual reality as well on PSVR. Batman: Arkham VR from Rocksteady was announced, new IP Farpoint – which looked like a cross between Pitch Black and Starship Troopers – was shown off and then there's Star Wars Battlefront: X-Wing VR Missions – which is sure to realise a few childhood dreams.
There was some confusion following the PlayStation VR sections when Call of Duty: Infinite Warfare showed up, and didn't exactly disassociate itself from the VR section. That red herring aside, VR is firmly in Sony's grasp – within the console market, and quite possibly outside it.
---
New announcements - Xbox
---
This keys back in to the first category, but Xbox definitely announced the most new things. Not just games, but hardware, new controllers, the Play Anywhere programme, new additions to Xbox Live and of course the future of 4K gaming. It'll be interesting to see where the balance between Xbox and Sony lies in two years time as we start to take the next generational leap.
---
Overall – Sony
---
For now though, the day belongs to Sony. Their games look great, they have the interest of being a decent mix of old and new genres, they have set a final date on the improbable with The Last Guardian and worked with publishers to get what fans want with Crash Bandicoot remastered... Apparently you all want that. For now, Sony will rule the roost but next year? It's anyone's guess.